Dom Hemingway (United Kingdom, 2013)
April 10, 2014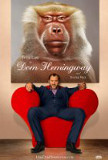 Dom Hemingway opens with Jude Law giving a bravura monologue praising the attributes of a certain body part that normally isn't compared to a Picasso or seen as worthy of winning the Nobel Peace Prize. If it was less profane, this might be highlight reel material. It's easily the best three or four minutes the movie has to offer; unfortunately, after this great beginning, it's all downhill. The rest of Dom Hemingway suffers from a meandering narrative and inconsistent comedy. The one thing that never falters during the course of the film is Jude Law's volcanic performance. Reminiscent of Tom Hardy's turn in Bronson, this is the kind of portrayal that garners notice and raves. It's outside Law's comfort zone but it doesn't take long for the actor to disappear utterly into the character.
As the story gets underway, Dom (Law) is being released from prison after serving a 12-year stint for unspecified wrongdoings related to his job as a safecracker. During his period of incarceration, he kept his mouth shut and didn't name names: a fact that isn't lost on his best friend, Dickie (Richard E. Grant), and his employer, Mr. Fontaine (Demian Bichir). Professionally, Dom might be in good shape but his personal life is a mess. His ex-wife died of cancer while he was inside and his daughter, Evelyn (Game of Thrones' Emilia Clarke), wants nothing to do with him. Dom is also not mentally stable. He's prone to bouts of uncontrollable rage and when one of those seizes him during an "audience" with Mr. Fontaine, he puts his life and future at risk.
Dom Hemingway functions better as a character study than a thriller. There are times when the narrative becomes unpredictable but, for the most part, it wanders. Some actions don't seem to have consequences and characters don't always behave in consistent, believable ways. Shepard brings a sense of gallows humor to the proceedings. The film is peppered with bitingly humorous moments. Dom Hemingway brings to mind Sexy Beast, although it's not as fresh. There are times - the opening monologue included - when this seems more like a showcase for Law's versatility as an actor than it does a fully realized motion picture. That's not necessarily a bad thing but it can leave the viewer feeling a little empty when the end credits roll.
Dom's relationship with Evelyn is the aspect of his life that needs to work for the movie to feel like more than a grouping of clever scenes attached by darkly comedic dialogue. Due to her limited exposure, however, Evelyn seems more like a plot device than a person and her actions toward the end don't ring true. She's a construct of Shepard's screenplay and the lack of depth accorded to her character limits Dom Hemingway's capacity for emotional resonance. Similarly, Dom's scene by his wife's grave is nicely acted but hollow. It doesn't feel real.
Although it's hard to call Dom Hemingway a "hidden gem" because of its numerous faults, Jude Law's performance is one thing about this otherwise mediocre film that stands out. He's good enough that the movie almost warrants a recommendation based on his work alone. Still, to fully satisfy, most movies need more than a single powerful element. In Dom Hemingway, once you get past Law, what's left is derivative and unfocused.
---
Dom Hemingway (United Kingdom, 2013)
---
Three...better movies of this genre
worse movies of this genre
Three...better movies of Jude Law
worse movies of Jude Law
Three...better movies of Richard E. Grant
worse movies of Richard E. Grant
Three...better movies of Demian Bichir
worse movies of Demian Bichir