England is Mine (United Kingdom, 2017)
August 25, 2017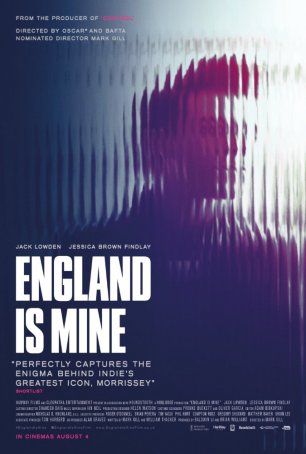 Perhaps the most salient question to ask about England is Mine, an unauthorized, slightly fictionalized bio-pic of musician (Steven) Morrissey, is: who is the intended audience? Die-hard fans of Morrissey will most likely be disappointed by what's missing from the film. Set in the years leading up to the founding of The Smiths, Morrissey's most lasting contribution to modern culture is entirely absent – there's not a song of The Smiths to be found on the soundtrack, which is replete with the '60s and '70s pop tunes that influenced Morrissey's musical tastes. For those who don't self-identify as Morrissey/The Smiths' fans, this is little more than a common struggling artist/coming-of-age period piece. It's competently made and sporadically compelling but not likely to pique the interest of anyone unfamiliar with the main character.
England is Mine opens in 1976, where we find 17-year old Steven Morrissey (Jack London) at loose ends, wandering the streets of Manchester in the company of his friend, Anji Hardie (Katherine Pearce), without purpose. He's a musician without a band and his fear of performing in public paralyzes him. Eventually, he obtains a creatively unsatisfying job working for the Inland Service but, while it brings in some money, it offers nothing beyond drudgery. He has no interest in pursuing a relationship with the office secretary, Christine (Jodie Comer), who shows a willingness. He prefers the company of his platonic friend, Linder (Jessica Brown Findlay), an artist whose sensibilities match his own and who can match him quip for sardonic quip.
Eventually, Morrissey achieves a musical breakthrough of sorts with a band called The Nosebleeds but success, tantalizingly close, slips through his grasp. The rest of the movie chronicles his struggles with depression, the way he manages his recovery and, after jumping ahead to 1982, his return to music. The film ends on a hopeful note and he and his new mate, Johnny Marr (Laurie Kynaston), begin a collaboration that will evolve to become The Smiths.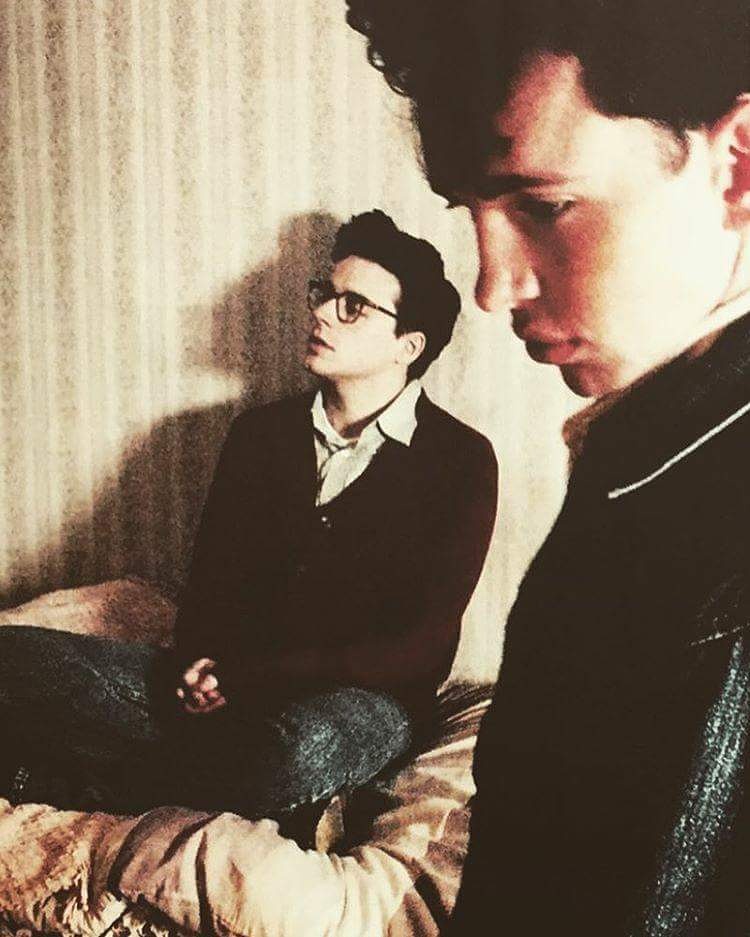 Much of England is Mine falls into the "we've seen it all before" category. The travails of a famous/influential artist as he/she struggles to achieve his/her potential is an old tale and, in order for it to be more substantive than a passing diversion, it needs to offer something new or interesting. England is Mine doesn't. In fact, if the main character wasn't named "Morrissey", the film never would have been made. The story is at times trite, bordering on clichéd, and those who don't know anything about The Smiths might reach the end wondering why they bothered watching. It's not that the production, directed Mark Gill from a screenplay he co-wrote with William Thacker, is inept. It looks good, boasts a strong sense of time and place, and features some nice performances. But the subject matter feels overly familiar.
The movie doesn't set out to solve any essential riddles about the lead character. Actor Jack Lowden, despite lacking a physical resemblance to his real-life counterpart, give a nuanced performance. We see the evolution of the elements that would define Morrissey's public persona: the androgynous geekiness, the mixture of narcissism and shyness, and the lack of interest in sex. Most stories about rock icons include copious amounts of sex and drugs. England is Mine has neither (unless you consider the anti-depressants Morrissey ingests to be "drugs") because Morrissey was known as a celibate ascetic. His lack of interest in women is repeatedly shown and the only hints that he might be interested in men are a few subtle glances he casts toward Marr.
One wonders whether Gill might have found more success chronicling later chapters from Morrissey's life. Although there are some interesting elements found in England is Mine, the sense is that the more vibrant segment of Morrissey's life starts at the moment this movie ends. (I suspect making a full-on movie about The Smiths might not have been feasible, especially considering the budget necessary to obtain the music.) England is Mine is watchable but not special and those with the strongest interest in the story may be unhappy about what's missing.
---
England is Mine (United Kingdom, 2017)
---
Three...better movies of this genre
worse movies of this genre
Three...better movies of Jack Lowden
(There are no more better movies of Jack Lowden)
worse movies of Jack Lowden
(There are no more worst movies of Jack Lowden)
Three...better movies of Jessica Brown Findlay
(There are no more better movies of Jessica Brown Findlay)
worse movies of Jessica Brown Findlay
(There are no more worst movies of Jessica Brown Findlay)
Three...better movies of Jodie Comer
(There are no more better movies of Jodie Comer)
worse movies of Jodie Comer
(There are no more worst movies of Jodie Comer)