Fences (United States, 2016)
December 25, 2016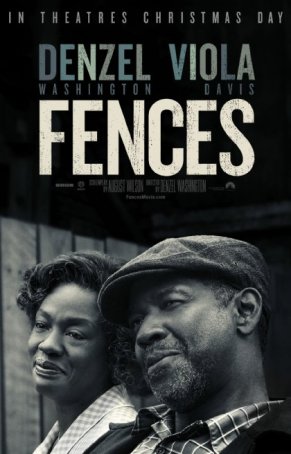 On reason behind the so-called "whitewashing" of the 2016 Oscars was too few roles of substance in major productions for actors of color. This year's roster of awards contenders has taken substantial steps to address this issue. Nowhere is that more evident than with Fences, an adaptation of August Wilson's 1983 Tony and Pulitzer Prize-winning play. Featuring an all-black cast, the film is a celebration of powerful performances by men and women delivering intelligent, provocative dialogue. Yes, Fences suffers somewhat from the bare-bones transferal of the "action" from stage to screen but the material is so compelling that viewers can easily lose sight of the movie's "play nature."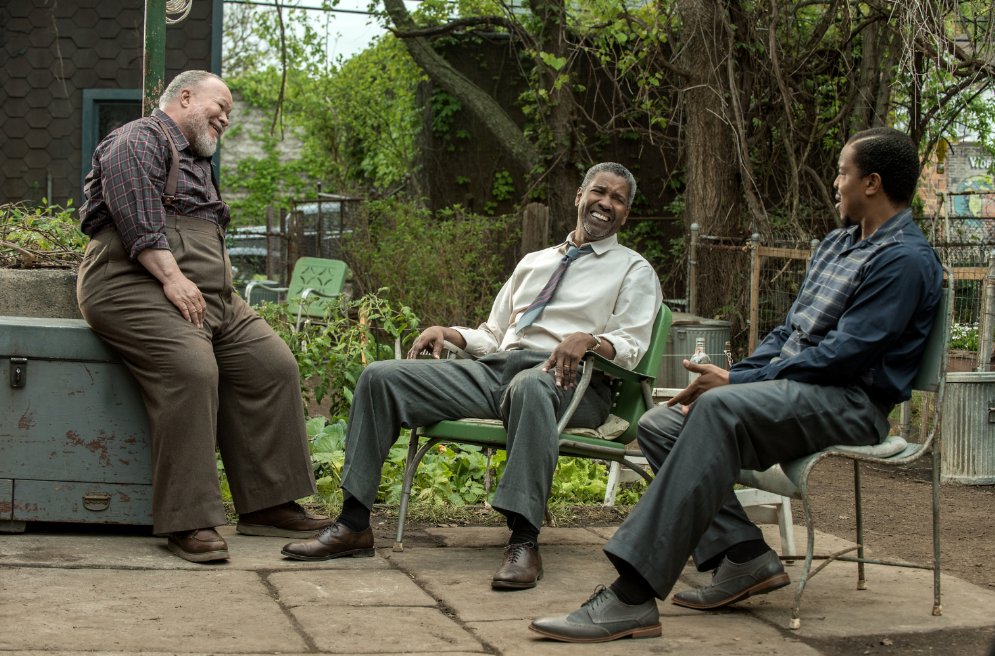 Fences marks Denzel Washington's third turn behind the camera and his first in nearly a decade. Shepherding the project from stage (where he played the lead in the 2010 limited Broadway revival) to screen has taken six years. Although Washington's directorial style appears to have been mostly hands-off (five of the six principals appeared on stage) and he hasn't done a lot to "open up" the play, his approach works. It has also resulted in a performance that will stand alongside Glory, Malcolm X, and Training Day as examples of the depth of the actor's talent and versatility.
The story is set in Pittsburgh during the late 1950s. As with all of Wilson's work, Fences addresses the African-American culture as set against the backdrop of evolving civil rights and changing race relations. The lead character, Troy (Washington), is an ex-Negro League baseball player whose years as a player preceded Major League Baseball's dismantling of the color barrier. It is one of his enduring regrets that he never had an opportunity to play on a bigger stage for more money. Now, married for 18 years to Rose (Viola Davis) and 53 years old, he still has a tendency to frame explanations in baseball terms. He uses strikes, balls, and outs as metaphors.
Troy is a garbage man with aspirations of moving out from behind the back of the truck, where he works with long-time friend Bono (Stephen Henderson), to the driver's seat - a promotion that would make him the city's first black trash truck driver. He lives in a small house with Rose and their son, high schooler Cory (Jovan Adepo). He also has an adult child, Lyons (Russell Hornsby), from a previous marriage. His brother, Gabriel (Mykelti Williamson), who was wounded in the war, used to live with him until he recently moved out to get a place of his own.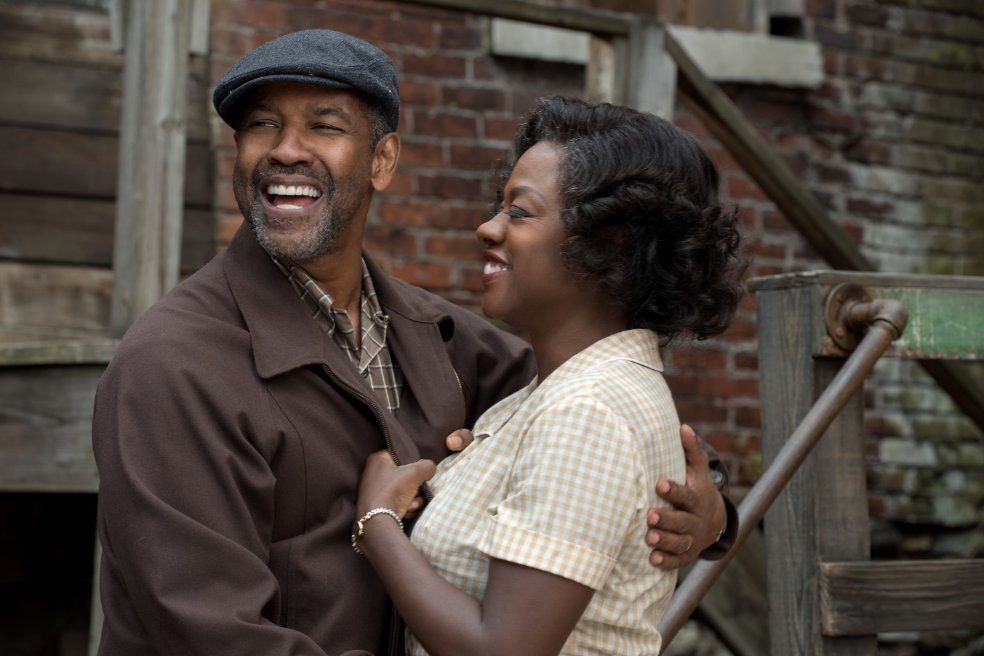 The film follows Troy's life through a series of events and crises. His relationship with Cory is rocky (as is often the case between hard-headed fathers and equally hard-headed teenage sons), leading him to reminisce about his difficulties with his own parents. Feeling trapped and marginalized, he enters into an affair which results in an unplanned pregnancy. The scene in which he confesses his infidelity to Rose (and, using baseball terms, tries to explain why he strayed) is one of Fences' most emotionally potent. As good as Washington is in this scene, Viola Davis steals the moment with a ferocity that virtually guarantees she will stand at the podium on Oscar night 2017 to give an acceptance speech. (Paramount is pushing her in the Supporting Actress category, which doesn't seem right, but it worked for Alicia Vikander so why not for Davis?)
Fences' dialogue is beautifully written and captures the mood of the period while exploring the minds of the characters. As one might reasonably expect from a converted play, this is a talky production but, although action is at a premium, dialogue doesn't have to be boring. The best antecedents I can come up with are Death of a Salesman and Glengarry Glen Ross. Washington captures the time period, the attitudes of the principals, and the tensions that arise among characters as they clash.
Fences, like many honest, substantive dramas that aren't over-amped to placate ADD viewers, may have trouble finding an audience. But the film is brilliantly scripted and powerfully acted and deserves to be seen by all who care about great performances and emotional impact. When the Oscar nominations are announced in early 2017, Fences will be well-represented, as it rightly should be.
---
Fences (United States, 2016)
Ranked #8 in Berardinelli's Top 10 of 2016
---
Three...better movies of this genre
worse movies of this genre
Three...better movies of Denzel Washington
worse movies of Denzel Washington
Three...better movies of Viola Davis
worse movies of Viola Davis
Three...better movies of Jovan Adepo
(There are no more better movies of Jovan Adepo)
worse movies of Jovan Adepo
(There are no more worst movies of Jovan Adepo)