Goldeneye (United Kingdom, 1995)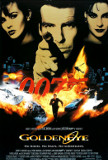 Like everything else, James Bond (Pierce Brosnan) has had to change for the nineties. The venerable 007, coming off a long hiatus, has taken on his sixth face (the other five being Sean Connery, David Niven, George Lazenby, Roger Moore, and Timothy Dalton), changed his mode of transport from an Aston- Martin to a BMW, and now answers to a female "M" (played dryly by Judi Dench). Bond's attitudes towards women have been modified -- although not greatly. Also, there's more action in Goldeneye than in previous 007 entries -- enough to keep a ninety-minute film moving at a frantic pace. Unfortunately, this movie isn't ninety-minutes long -- it's one-hundred thirty, which means that fully one-quarter of Goldeneye is momentum-killing padding.
Despite the mostly-cosmetic alterations, the majority of fans won't be disappointed by Pierce Brosnan's debut as their favorite spy. His Bond still quips at danger, takes his vodka martinis "shaken, not stirred", enjoys gadgets and toys, and introduces himself as "Bond, James Bond". Moneypenny (Samantha Bond) and "Q" (played yet again by a visibly aged Desmond Llewelyn) remain in the supporting cast, and the familiar musical theme can be detected occasionally infiltrating Eric Serra's upbeat, modern score. For those who like opening credits, the trademark surrealism, complete with hammer & sickle, guns, and women, is fully in evidence.
As for the leading man, he's a decided improvement over his immediate predecessor. Brosnan has a flair for wit to go along with his natural charm; Dalton was stoic and sober. Of course, the newest Bond doesn't come close to Sean Connery's definitive portrayal, but he lacks the fatuousness that marred Roger Moore's tenure. Brosnan's approach has invigorated 007 enough to overcome a movie that seemingly never wants to end.
The story is standard fare, mixing and matching cliches of the genre. The Russian mafia obtains a space- based weapons system called Goldeneye that works by exploding a nuclear device in orbit, then crippling a ground location with the resulting electromagnetic pulse. It's up to Bond to save London from a vengeance-crazed megalomaniac. Along the way, he runs into such diverse characters as a beautiful computer programmer (Izabella Scorupco), a former partner (Sean Bean), a wisecracking CIA agent (Joe Don Baker), an ex-KGB officer with a score to settle (Robbie Coltrane), and a psychotic woman who likes squeezing men to death between her legs (Femke Janssen). Brosnan is supported by an interesting troupe of actors, but the spotlight is always on him.
Goldeneye keeps Bond's comic book-like stunts at an appropriately absurd level. Even given that we're in a reality where spies are more like Superman than Bernard Samson (Len Deighton's popular MI6 agent), suspension of disbelief occasionally becomes a challenge, especially with visual effects that could be charitably called "subpar." Some such liabilities, however, can be forgiven in the name of fun. And, with its mixture of humor, interesting locales, high-speed chases, explosions, and action, Goldeneye possesses that quality. It is perhaps the best entry in the series since The Spy Who Loved Me, and, while that's not saying much, this updated Bond should be able to stand toe-to-toe with today's crop of heroes.
---
Goldeneye (United Kingdom, 1995)
---
Three...better movies of this genre
worse movies of this genre
Three...better movies of Pierce Brosnan
worse movies of Pierce Brosnan
Three...better movies of Sean Bean
worse movies of Sean Bean
Three...better movies of Izabella Scorupco
(There are no more better movies of Izabella Scorupco)
worse movies of Izabella Scorupco
(There are no more worst movies of Izabella Scorupco)