Harry Brown (United Kingdom, 2009)
May 03, 2010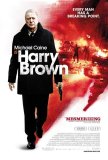 For those who are principally familiar with Sir Michael Caine from his work during the past two decades, his role as the rough-and-tumble Harry Brown may seem a little out-of-character. After all, this isn't the sort of thing one expects from the actor who plays the stoic and staid Alfred or who won as Oscar as a pro-abortion doctor in The Cider House Rules. Early in his career, however, Caine was a versatile thespian who portrayed more than his share of action heroes, including superspy Harry Palmer in a trio of Len Deighton adaptations (The Ipcress File, Funeral in Berlin, The Billion Dollar Brain), and the title character in Get Carter. With Harry Brown, Caine is doing what Sean Connery attempted in The Rock - toying with the idea of what things might be like for an action hero when his best years are long behind him. Although Harry Brown works perfectly fine without this consideration (just as one doesn't have to make the Connery/Bond connection for The Rock to be enjoyed), such a recognition adds a layer to what shows up on screen in this movie.
Harry Brown is cut from the Death Wish mold but, like many recent vengeance films, it is more a meditation about the degradation of society than it is an invitation to cheer the triumph of the protagonist. The villains in this film are very, very bad, but their deaths don't provoke the catharsis one might expect. That's because they seem to be a symptom of a societal malaise. Kill one and another will spring up in his place, and next time there won't be a Harry Brown to take him out. All this is in the subtext, of course, but it explains why we don't feel like doing cartwheels when these guys start dropping like flies. The plot points are what we might expect with Charles Bronson, but the tone is altogether different.
Michael Caine is Harry Brown - a pensioner who has just lost his wife and is living on his own in a seedy section of London. Harry's lone pastimes are playing chess with Leonard (David Bradley), his last living friend, and having a quiet pint at the local pub. Crime is rampant in the neighborhood. Local gangs are assaulting innocent passers-by with abandon and the police, led by D.I. Frampton (Emily Mortimer) and her partner D.S. Hicock (Charlie Creed-Miles), are unable to do much under the letter of the law to stop the deterioration. Harry remains quietly on the sidelines until Leonard is murdered. Then, seeing that justice won't come through the system, he decides to obtain it his own way. Even though Harry is in his 70s and has emphysema, his training from 50 years ago as a member of the Royal Marines has never left him. Now, he intends to treat the members of the gang who killed Leonard much as he treated the IRA in Ulster.
Harry Brown is intense and director Daniel Barber, making his feature debut after transitioning from the world of TV commercials, knows how to rivet the audience's attention from the beginning. Harry Brown opens with a startling point-of-view sequence that features a motorcycle rampage, a cold-blooded shooting, and a road accident. This is our introduction to the culture and mindset of the thugs against which Harry will be squaring off, and it's an unforgettable one.
Tension is one of Harry Brown's hallmarks and Barber knows how to ratchet it up. There are two instances in which it thickens to palpable levels - one in a marijuana greenhouse into which Harry ventures to procure some firepower and one near the end when the final showdown occurs. Barber's approach is to be relentless in pushing the story forward and, although the general outline may seem familiar, there are plenty of small twists and turns that differentiate Harry Brown from similarly themed predecessors. Of course, it doesn't hurt that Caine is the film's central figure. He brings a sense of gravitas to the proceedings that another actor might be unable to convey. Combining Caine with a taut, uncompromising script and a director who knows what he wants virtually guarantees success.
The film is probably too bleak and gritty for it to find much favor for the crowd that thirsts for the PG-13 style action of summer blockbusters or the gore of R-rated horror films. The premise may sound exploitative, but the execution suggests something darker and more serious. Harry Brown was not assembled with the expectation of audiences whooping it up every time the lead character removes an antagonist. There are darker things at work, things that gnaw at the human soul. My expectation is that Harry Brown will find its strongest adherents among those who remember Caine in The Ipcress File and Get Carter and are fascinated to explore his take on how that sort of character might have aged.
---
Harry Brown (United Kingdom, 2009)
---
Three...better movies of this genre
worse movies of this genre
Three...better movies of Michael Caine
worse movies of Michael Caine
Three...better movies of Emily Mortimer
worse movies of Emily Mortimer
Three...better movies of Charlie Creed-Miles
(There are no more better movies of Charlie Creed-Miles)
worse movies of Charlie Creed-Miles
(There are no more worst movies of Charlie Creed-Miles)