Hell or High Water (United States, 2016)
August 23, 2016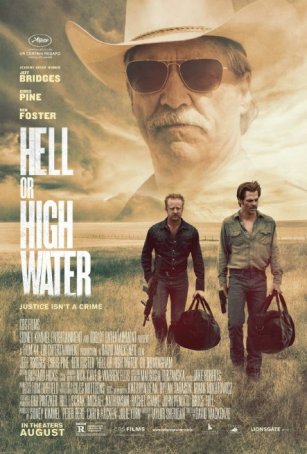 There are no tumbleweeds in Hell or High Water, but there might as well be. The Texas terrain, as bleak and barren as any landscape this side of Tombstone, is a constant presence, as forceful a character as any played by a human actor. It speaks of poverty, lost opportunities, and desperation. Alternating with the shots of a cowboy's dream gone bad are indelible images of refineries and oil rigs, visual blights that obscure the horizon. One character, a half-Comanche, puts it in perspective when he matter-of-factly observes that, 150 years ago, all this land belonged to his people. Then, the grandparents of the current residents drove them out. Now, the banks are doing to them what they did to the Native Americans.
Echoes of the Coen Brothers are impossible to ignore, especially No Country for Old Men. I'm sure the presence of Jeff Bridges, a veteran of couple of Coen Brothers outings, has something to do with it. But it's more because of the tone, the attention to detail, and the gallows humor injected into the dialogue. This is a thriller but it's not a Hollywood thriller. Immersed in the overwrought rhythms of a summer's worth of blockbuster "action", I had almost forgotten how satisfying a slow-burn approach can be. Hell or High Water doesn't feel the need to rush things along and director David Mackenzie isn't tied to the leash of multiple cuts per second. He prefers extended takes and tracking shots and it's hard to argue that there's a better approach because what he achieves is damn near perfect for this material.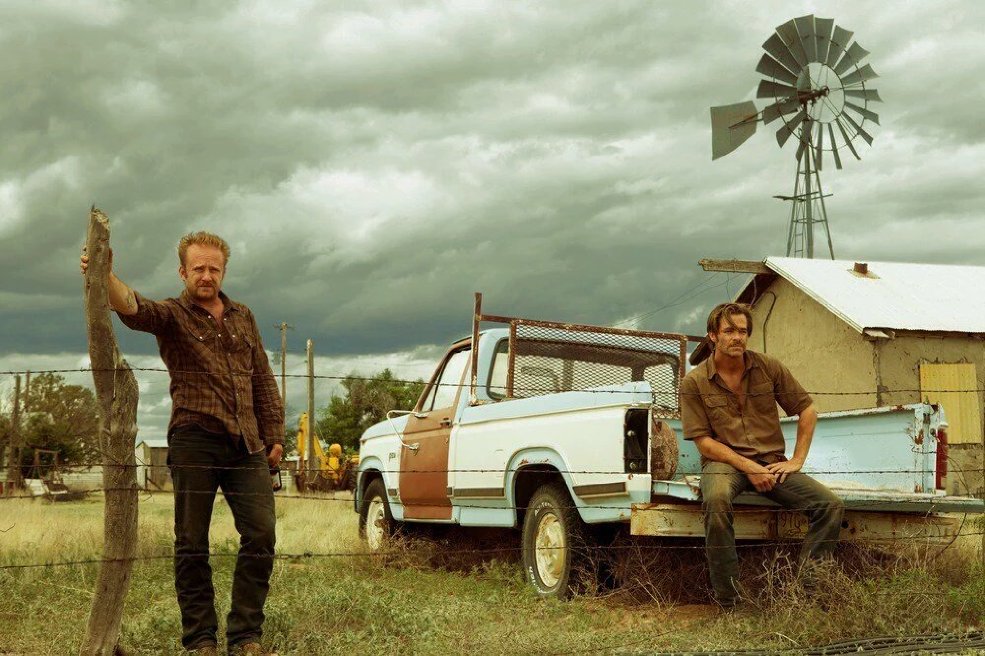 The story begins with a low-key bank robbery committed by brothers Toby (Chris Pine) and Tanner Howard (Ben Foster). Although their approach seems amateurish, there's a method to their madness. And, although Toby is devoted to non-violence, we're not so sure about Tanner. Two robberies later, although we have gotten to know the criminals, their motivations, which involve reverse mortgages, oil drilling rights, and Toby's estranged sons, remain murky. This is intentional. Mackenzie and screenwriter Taylor Sheridan (with a strong follow-up to his 2015 writing debut, Sicario) are content to allow the information to emerge organically rather than providing it via an exposition dump.
To balance things, Hell or High Water provides us the other side of the story as well - that of the law enforcement officers charged with investigating the bank robberies. In this case, the Texas Rangers are represented by retiring officer Marcus Hamilton (Jeff Bridges) and his earnest sidekick, Alberto Parker (Gil Birmingham). These two share a companionable enmity with Marcus using Alberto as a verbal punching bag for a variety of insults then cheering the younger man on when he lands a return jab. As lackadaisical as Marcus may seem, however, he's actually a savvy lawman - exactly what's needed when Toby (if not Tanner) proves to be smart and slippery.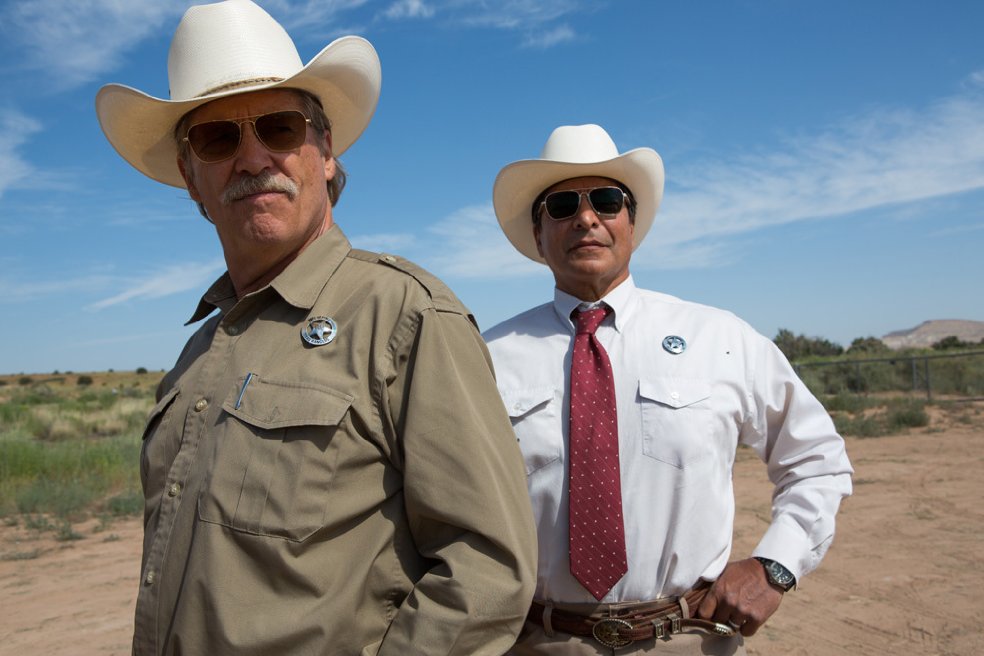 In fact, Tanner is the weak link in Toby's plans, although the former's temper occasionally bubbles to the surface in the more grounded brother (consider how he reacts to a perceived threat at a gas station). Initially, it appears that Tanner is the guiding force behind the crimes but we soon learn that Toby is the brains of the operation. The brothers steal only loose bills to avoid dye packs. They have chosen their victim (Texas Midlands, with no branches outside its home state) to avoid FBI involvement. The getaway cars are driven into a grave. Other, deeper wrinkles in their scheme are revealed as the plot unspools.
Strong acting is one of the film's strengths. Chris Pine, who has become synonymous with the new James T. Kirk, is given an opportunity to show that he can act when not struggling in William Shatner's shadow. Pine, who usually chooses leading man/action hero type roles, makes us question whether he might not be a better character actor. He's excellent here in part because the weight of the movie isn't resting on his back. Ben Foster, who co-starred with Pine earlier this year in The Finest Hours, portrays Tanner as a loose cannon whose traumatic past has left him unhinged but whose love for his brother is his saving grace. Jeff Bridges adopts a Columbo-esque laid-back attitude - sort-of a parallel universe version of The Dude if he had become a Texas Ranger. Underneath the seemingly lazy exterior, however, there's a bit of Sherlock Holmes at work.
Hell or High Water is more of a drama than a thriller, although there are "thriller-type" elements in place (the bank robberies and some chase and close-call elements as law enforcement closes in). The film is more about characters than suspense. Mackenzie takes great pains to provide a compelling, credible motive for Toby and Tanner and to illustrate the strengths and weaknesses of the men pursuing them. From a purely narrative perspective, there's nothing new here but like a new arrangement of a familiar tune, the slight changes make it fresh and enjoyable.
---
Hell or High Water (United States, 2016)
---
Three...better movies of this genre
worse movies of this genre
Three...better movies of Chris Pine
worse movies of Chris Pine
Three...better movies of Ben Foster
worse movies of Ben Foster
Three...better movies of Jeff Bridges
worse movies of Jeff Bridges