Hundred-Foot Journey, The (United States, 2014)
August 07, 2014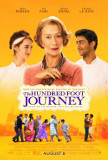 There's something gentle, charming, and old-fashioned about The Hundred-Foot Journey, a family-friendly motion picture from director Lasse Hallstrom based on the book by Richard C. Morais. A non-confrontational movie about the power of food and family, The Hundred-Foot Journey makes good use of the considerable talents of its veteran leads, Helen Mirren and Om Puri, to represent the cultural and culinary differences that exist between India and France. The sweep of the movie isn't all placid; elements of romance and whimsy are counterbalanced by instances in which the ugliness of xenophobia emerges. Only toward the end, when the narrative stumbles during an extended epilogue, does the concoction crumble a bit.
Director Hallstrom's last great movie was probably The Cider House Rules, which came out 15 years ago. In the interim, he has made some low-key, pleasant films (like An Unfinished Life and Salmon Fishing in the Yemen) and a couple of forgettable Nicholas Sparks adaptations (Dear John and Safe Haven). The Hundred-Foot Journey is vintage Hallstrom - genial and meditative, focusing more on characters and emotions than an overcooked plot. The story is simple; the people inhabiting the movie make this worth seeing.
Om Puri plays the patriarch of the Kadam family, a group of six who have departed India and come to France to open a restaurant. He is accompanied by his three adult children: Mukthar (Dillon Mitra), Mahira (Farzana Dua Elahe), and would-be chef Hassan (Manish Dayal). Hassan has great talent in the kitchen but the death of his mother haunts him. Papa decides that the best place to start this new life is in a abandoned building near the outskirts of a town in the south of France, Saint-Antonin-Noble-Val. To him, it seems to be a great place to open "Maison Mumbai" but his children point out a problem: across the street is the highly respected restaurant of Le Saule Pleureur. The proprietress of this classical French establishment, Madame Mallory (Helen Mirren), is not keen on competition. Not dissuaded, Papa presses on. Meanwhile, Hassan forms a quasi-romantic friendship with Marguerite (Charlotte Le Bon), one of Madame Mallory's sous chefs. Soon, the two rival establishments are engaged in an all-out culinary war… until things go too far.
Hallstrom's filmmaking techniques are straightforward - the images lensed by his cinematographer, Linus Sandgren, emphasize the beauty of the terrain, creating an almost fairy tale locale. Although the movie is set in contemporary times (as evidenced by the presence of a cell phone early in the proceedings and modern equipment during the epilogue in Paris), it feels as if it's taking place in the '70s or '80s. There are rotary phones, people use bicycles or old cars for transportation, and there's nary a computer to be found. For the most part, the lifestyle in and around Saint-Antonin feels like it's frozen in an earlier, simpler era.
There's a sense that Hallstrom is attempting to develop the kind of food-saturated ambiance that has characterized films like Babette's Feast and Big Night. However, although the various dishes are lovingly presented, they don't reach into the stomach quite the way those earlier films did - although it wouldn't be entirely unexpected if some viewers expressed a desire for Indian cuisine for a post-movie repast. There's also an interesting montage of shots in which Hallstrom uses the chopping and dicing of vegetables to represent skirmishes in the ongoing conflict between Maison Mumbai and Le Saule Pleureur.
The Hundred-Foot Journey represents a pleasant diversion for those who have grown weary of traditional summer movie fare. The picture is about people and how they interact. There are no explosions or car chases. There are no sex scenes - only a few kisses and a little dancing. The movie is at times too sentimental and the storyline is neither original nor surprising, but the production as a whole gains points for its unalloyed charm. This is one dish that has been cooked well enough to satisfy.
---
Hundred-Foot Journey, The (United States, 2014)
---
Three...better movies of this genre
worse movies of this genre
Three...better movies of Helen Mirren
worse movies of Helen Mirren
Three...better movies of Om Puri
(There are no more better movies of Om Puri)
worse movies of Om Puri
(There are no more worst movies of Om Puri)
Three...better movies of Manish Dayal
(There are no more better movies of Manish Dayal)
worse movies of Manish Dayal
(There are no more worst movies of Manish Dayal)