Movies starring Om Puri Charlie Wilson's War
It's a curious thing. Whenever this much talent is assembled for a motion picture, the result inevitably seems to be a letdown. And to say that Charlie Wilson's War is topheavy with talent is to understate the matter. The cast features three Osc... Code 46
Over the years, I have come to expect great things from Michael Winterbottom. I haven't loved everything he has done, but he has made some powerful movies and even his least inspired films have been watchable. So Code 46 broadsided me, provoking an...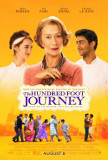 Hundred-Foot Journey, The
There's something gentle, charming, and old-fashioned about The Hundred-Foot Journey, a family-friendly motion picture from director Lasse Hallstrom based on the book by Richard C. Morais. A non-confrontational movie about the power of food and fa...