Locke (United Kingdom/United States, 2014)
May 05, 2014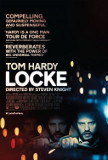 This may not sound like a recipe for cinematic success: a man, alone in a car as he makes a 90-minute trip to London, connects with the voices of the outside world via his mobile phone. Yet, with tremendous work by actor Tom Hardy anchoring a film that is ripe with dramatic tension, Locke is entirely absorbing despite the limitations imposed by the setting. Director Steven Knight (the writer of Dirty Pretty Things) has crafted a unique motion picture that makes a statement about accepting consequences and the changes that accompany them.
The car ride, which represents a turning point in the life of Ivan Locke (Hardy), is presented in real time. The man who reaches his destination is not the same man who departs from a construction site in the movie's opening moments. His reason for making the journey - a woman with whom he had a one-night stand is alone, frightened, and going into premature labor - will change everything for Locke. When he gets in the car, he has a job, financial security, and a family. When he emerges, he has none of those things. His choice - to abandon a stable lifestyle to fulfill what he believes to be a moral obligation - re-aligns his priorities. When he can no longer be on site the next morning to supervise a major construction project, his boss fires him. When he confesses his infidelity to his wife, she declares that he's not welcome to come home. Within the confines of the car, Locke faces the collapse of his old life while discovering a strange sense of freedom. A man who has lost everything has nothing more to lose. He elects to do what he believes to be right at great personal cost in an attempt to redress a wrong perpetrated by his father.
Knight's style is sparse. There are times when his shot selection borders on monotonous; he might have been better served by keeping the cameras focused on Hardy rather than occasionally pointing them out the front windshield. The outside world is far less interesting than what's going on inside the head of the man in the driver's seat.
Hardy's low key, perfectly modulated performance makes Locke work. For nearly 90 minutes, he mesmerizes. His voice, actions, and facial expressions show the impact that each phone call has upon him - tearing down the old Locke while building up the new one. The most heartbreaking conversation occurs when his younger son calls him in the wake of a football win. The boy is questing for the normalcy that accompanies a father and son bonding over a sports victory; Locke, rendered unable to speak by emotion, cannot provide it. In this moment, Hardy sells how much Locke has sacrificed. His pain radiates from the screen, a palpable thing. I have long admired the actor, whose performances in films like Bronson and Warrior captivated, but this may be his be his most accomplished work yet. For Locke to work, we have to identify with the main character. We can't simply watch him; we have to connect with him. Hardy's acting facilitates that.
The other performers in Locke are voices on the phone. There are four primary ones: Olivia Colman (as the woman bearing Locke's child), Ruth Wilson (as his wife), Andrew Scott (as his replacement at the job site), and Ben Daniels (as his boss). All are credible in creating their characters even though none makes a physical appearance.
Based purely on a cursory description, Locke might sound like a dull, gimmicky film. Nothing could be less truthful. The central character is such a strong "everyman" that his dilemma resonates. We can easily see ourselves in his position, facing his choices, damned no matter which way we turn. The drama is internalized but powerful nonetheless. And there's always an unacknowledged tension about whether Locke will reach his destination. Cars can be dangerous, especially when the driver is distracted. Whether intentional or not, Knight encourages this recognition. But the real wreckage in Locke is to the main character's old life, and the manner in which it is depicted makes this one of the year's most intriguing motion pictures.
---
Locke (United Kingdom/United States, 2014)
Run Time: 1:26
U.S. Release Date: 2014-05-02
MPAA Rating:
"R" (Profanity)
Genre:
DRAMA
Subtitles: none
Theatrical Aspect Ratio: 2.35:1
---
Three...better movies of this genre
worse movies of this genre
Three...better movies of Tom Hardy
worse movies of Tom Hardy