Love After Love (United States, 2017)
March 30, 2018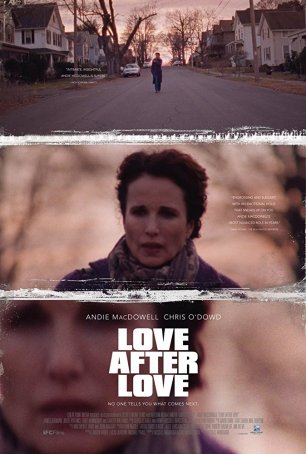 Over the years, movies have given us countless meditations on death and mourning, many of them hopelessly artificial and cloying. When something like Love after Love comes along with its unsparing look at this process, the result can be uncomfortable. First-time director Russell Harbaugh presents grief as it is, in all its pain and ugliness, rather than using the convenient, uplifting short-hand that Hollywood prefers.
Love after Love starts with a family dinner. We are privy to all the normal, banal conversations that transpire at events like these. We notice immediately, however, that something is a little "off" and our suspicions are confirmed when the patriarch, Glenn (Gareth Williams), speaks. His voice is a raspy shadow of what it might once have been – a sure sign that some sort of illness is pushing him toward his terminus. The others at the table, including his wife Suzanne (Andie MacDowell) and his adult sons, Nicholas (Chris O'Dowd) and Chris (James Adomian), are using this occasion as an opportunity to say goodbye. The next time we drop in on the family, Glenn is approaching the end – no longer able to stand or move on his own, requiring help to get to the toilet, and lying in bed wheezing and choking until, almost mercifully for him and his caretakers, he is no more.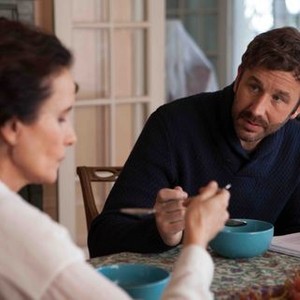 Then it's time to move on. For Suzanne, who was married to Glenn for close to 40 years, that means figuring out a way to pick up the pieces and reconfigure her life. She eventually ends up with a seeming nice-guy named Michael (Matt Salinger). He is instantly disliked by Nicholas, who despises the idea of his mother being with anyone other than his father. Nicholas' quasi-incestuous jealousy isn't his only defining characteristic. An unpleasant womanizer with rage simmering just beneath the surface, Nicholas systemically destroys his relationship with co-worker Rebecca (Juliet Rylance), becomes engaged to the much younger Emilie (Dree Hemingway, the look-alike daughter of Mariel Hemingway), and cheats on her with another woman (Francesca Faridany). Chris, meanwhile, drowns his sorrows in alcohol, becoming so numbed that on one occasion he mistakes a coatroom for a bathroom. None of these characters follows the traditional motion picture arc for the safe trajectory of living following the death of a loved one, and that's what gives Harbaugh's film its strength.
Performances can make or break a film like this and Love after Love has three strong ones. In 59-year old Andie MacDowell, an actress who has grown in accomplishment over a long career (she has moved far beyond what she was in her best-known projects: sex, lies, and videotape; Four Weddings and a Funeral; and Groundhog Day), inhabits Suzanne with the believability of someone who understands the character she is playing. Chris O'Dowd ably conveys the volcanic pressure building beneath Nicholas' surface and, although the character is unlikable, he nevertheless enables viewers to feel an element of sympathy. James Adomian brings a quiet sense of defeatism to Chris; a stand-up comedy monologue provides the strongest insight into his personality.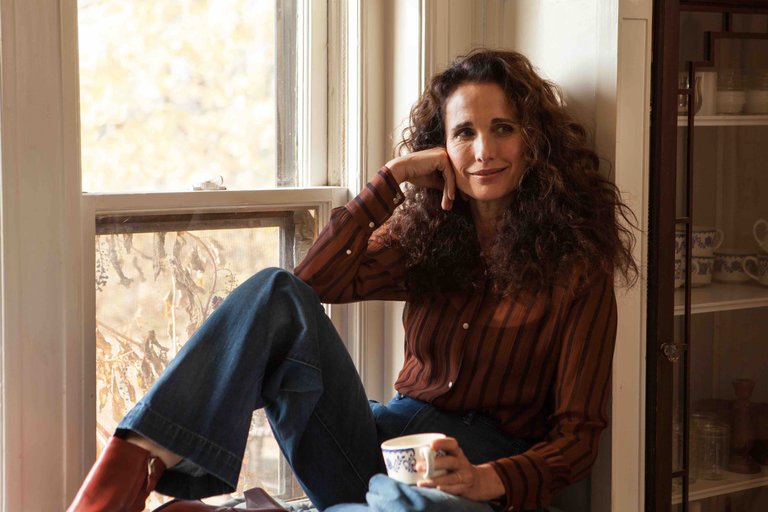 For a first-time director, Harbaugh has a good sense for how long to hold a scene. His decision to present the story episodically, often jumping ahead and ignoring transitions, can occasionally lead to a sense of disorientation. It creates an uneven flow that, while damaging the pacing, enhances the tone. I wasn't overly fond of David Shire's piano-heavy, jazzy score. It is overused and scenes that might have worked better with no music (or at least something less ostentatious) are hampered. It's said that the best scores are the ones that aren't noticed; I was frequently aware of Shire's contribution and not always in a positive way.
Love after Love ends not with full closure but with an understated sense of optimism. Even in the most devastating instances of grief, the passage of time dulls the pain. That's what happens here. There's no big climactic confrontation or kumbaya scene. Many threads are left dangling. Nevertheless, when the end credits roll, there's a sense that the worst is over and the story Harbaugh wanted to tell has come to an end even if the lives of the characters have not.
---
Love After Love (United States, 2017)
---
Three...better movies of this genre
worse movies of this genre
Three...better movies of Andie MacDowell
worse movies of Andie MacDowell
Three...better movies of Chris O'Dowd
worse movies of Chris O'Dowd
(There are no more worst movies of Chris O'Dowd)
Three...better movies of James Adomian
(There are no more better movies of James Adomian)
worse movies of James Adomian
(There are no more worst movies of James Adomian)