Midsommar (United States, 2019)
July 05, 2019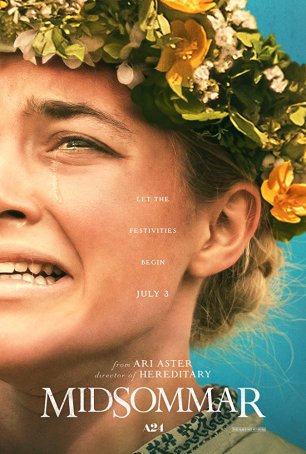 Ari Aster, the director of Hereditary and Midsommar, has described his brand of filmmaking as "existential horror." To be sure, it's a much different breed of the genre than one typically finds in multiplexes, trading in jump scares for something longer and lingering. While Hereditary crashed and burned in its final act, Midsommar stays afloat, although the movie is ultimately hampered by a too-long running length (147 minutes) and scenes that teeter perilously close to slipping over a cliff into self-parody.
Nothing tongue-in-cheek is intended or attempted in Midsommar but misplaced chuckles in the audience indicate that Aster isn't always hitting his marks. One wonders whether a more restrained approach to some of the over-the-top scenes might have worked better. Hereditary had something of the same problem – the ending was jarringly out-of-synch with the build-up. It's creepier in Midsommar but not as unsettling as Aster thinks it is. The movie is dark and unrepentant in its trajectory and the final image lingers in its implications of the cost of a "happy ending."
Midsommar begins with a grim scenario: Dani (Florence Pugh) loses her entire family when her bipolar sister commits suicide by piping the exhaust from two running cars into a closed-up house. Her parents, asleep in their beds, are also victims. Dani's boyfriend, Christian (Jack Reynor), decides to postpone a breakup and instead invites her to accompany him and his friends to a small commune in Sweden, where they plan to celebrate the summer solstice. Also going are Christian's buddies, Josh (William Jackson Harper), and Mark (Will Poulter). The four Americans are guests of foreign student Pelle (Wilhelm Blomgren), who hails from the northern European country.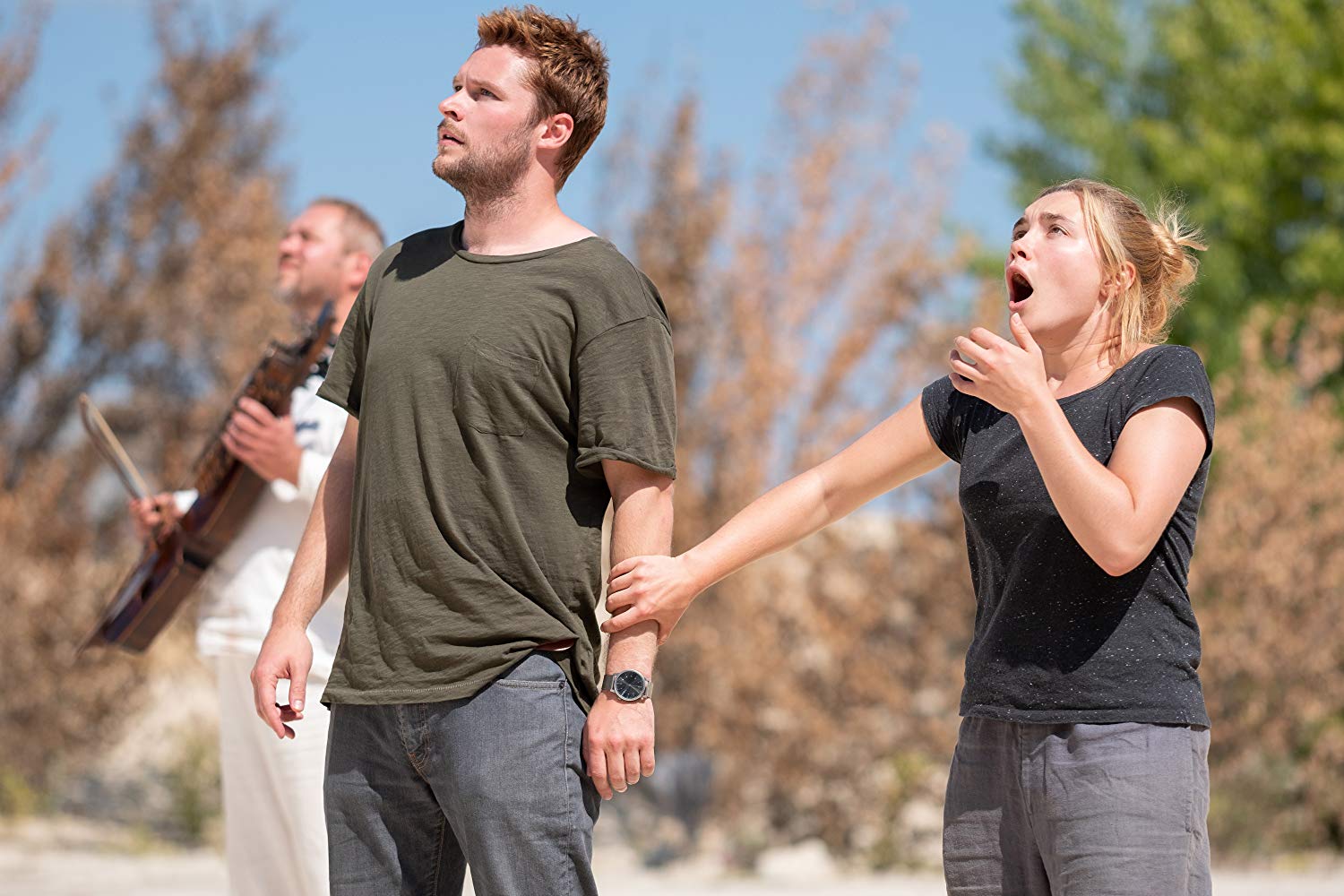 At first, the celebration appears to be all about drugs, sex, and music. Hallucinogenic substances are distributed freely, warping perceptions. Cinematographer Pawel Pogorzelski's camerawork overlaid with some CGI gives the viewer a taste of what Dani, Christian, and the others are experiencing. There are good trips and bad trips – seemingly more of the latter than the former – and they culminate in a gruesome ritual that shocks only the Americans and couple of Brits who are also visiting.
Similarities to Robin Hardy's 1973 classic, The Wicker Man, are surely intentional. Midsommar evokes the same kind of dread and paranoia. Both films feature grotesque pagan ceremonies and have a thing or two to say about the involvement of outsiders. (The sexual aspect is amped up here, although The Wicker Man didn't skimp on nudity, providing a memorable shot of the gorgeous Britt Ekland in her prime.)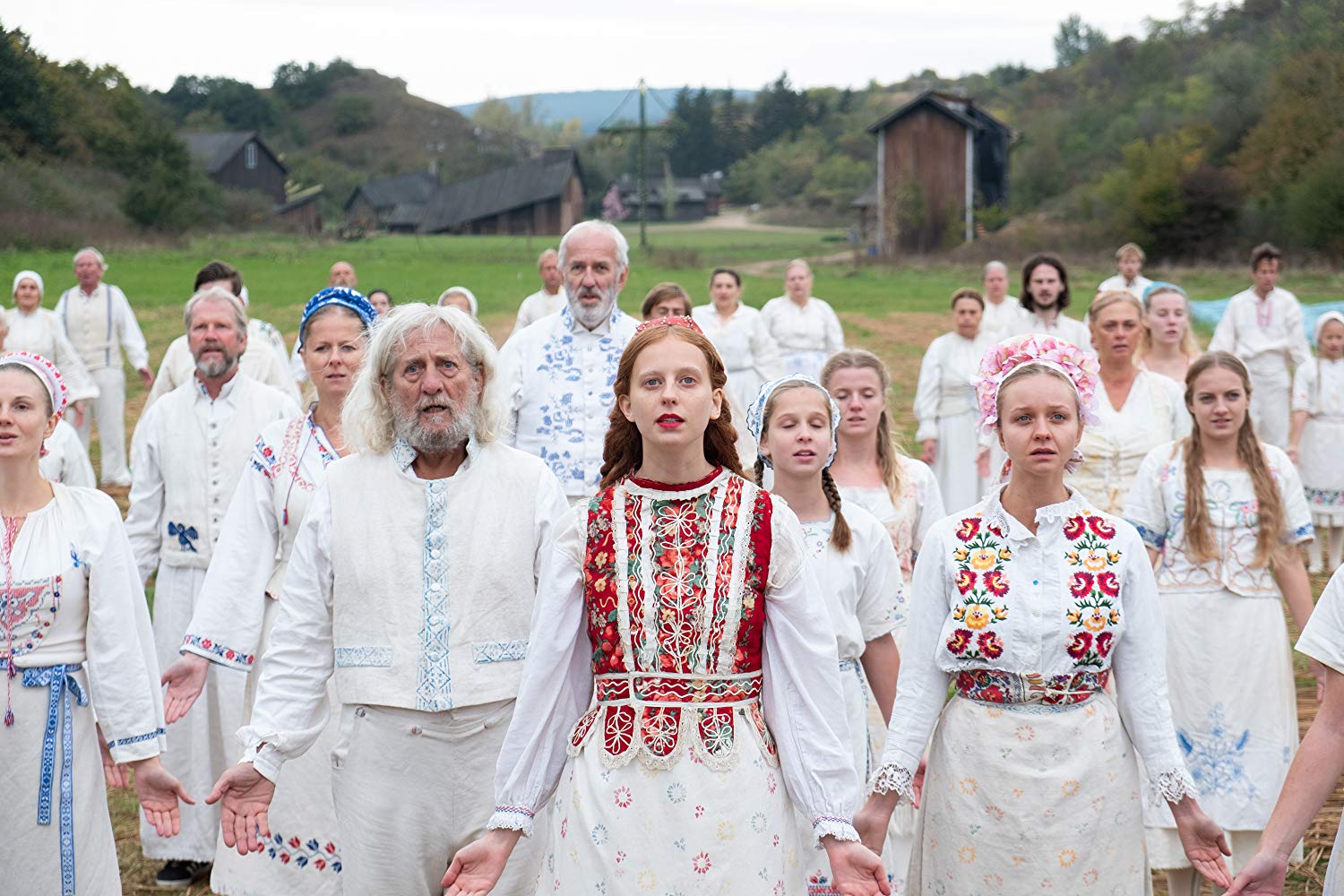 The cast is low on star-power. The highest wattage comes from Florence Pugh, the up-and-coming British actress best known for the TV mini-series The Little Drummer Girl and the 2019 theatrical release Fighting with My Family. (She will also be seen in the Christmastime remake of Little Women.) She's an emotive actress whose character is put through the wringer. Her performance is riveting. Jack Reynor, who played the older brother in Sing Street and bears a passing resemblance to a young Seth Rogen, has a less complex role but goes all-out. And I mean all.
Midsommar suffers from pacing problems. Although Aster's approach is to move slowly, allowing the atmosphere he and Pogorzelski create to percolate, there are times during the first hour when "slowly" verges on non-existent. This is especially true once the characters reach the commune and are introduced to a variety of odd but seemingly non-threatening rituals. The movie is also lacking when it comes to special effects. Although some of the CGI used to depict drug-fueled hallucinations is effective, the gore is comically bad, recalling the worst B-movies of the '60s and '70s. None of the bodies look like bodies – they look like waxwork dummies leaking red fluid.
Sometimes the true test of an unconventional horror movie isn't whether the film is frightening but whether it sticks in the mind. Midsommar has that sort of staying power, which makes it a better choice for horror aficionados than the other midsummer garbage currently being dumped into theaters.
---
Midsommar (United States, 2019)
---

Three...better movies of this genre
worse movies of this genre
Three...better movies of Florence Pugh
worse movies of Florence Pugh
Three...better movies of Jack Reynor
worse movies of Jack Reynor
(There are no more worst movies of Jack Reynor)
Three...better movies of William Jackson Harper
(There are no more better movies of William Jackson Harper)
worse movies of William Jackson Harper
(There are no more worst movies of William Jackson Harper)