Little Women (United States, 2019)
December 24, 2019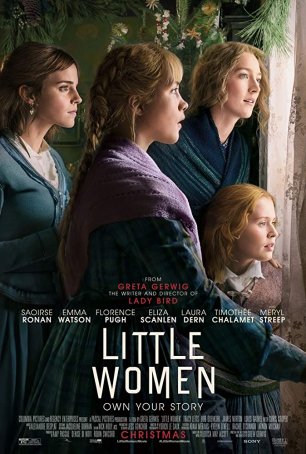 Little Women is a like Hamlet and Pride and Prejudice – the story is so well-known (and well-loved) that any new motion picture adaptation becomes more about screenwriting choices (what's left in and what's taken out) and performances. Contrasting Greta Gerwig's 2019 version of the Louisa May Alcott story with the one most movie-goers remember, Gillian Armstrong's 1994 interpretation (the one starring Winona Ryder/Claire Danes/Christian Bale/Susan Sarandon), feels a little like an apples-to-oranges comparison. Armstrong's Little Women was a straightforward book-to-movie translation. Gerwig is trying for something a little different, juggling the time frame and creating a "meta" ending to make the story's feminist themes overt and incorporate an ambiguous "twist" that some will see as clever and others may find heretical.
This is still recognizably Alcott's Little Women, albeit put through a food processor. Instead of telling the story in a chronological fashion, Gerwig deconstructs the narrative and creates two separate time lines. She freely jumps from one to the other and back again, using visual cues (like the length of a character's hair) to let us know whether we're in the earlier portion of the story or the later one (the gap is about three years). Without going into details, the ending represents the most intriguing (and potentially controversial) aspect of the movie, reminding viewers that most scholars view Little Women as at least partially autobiographical and bringing elements of the real-life Alcott into the film. Although a perfectly valid direction in which to take things, it diminishes the book's ending and may make some "purists" (if such a group exists) unhappy.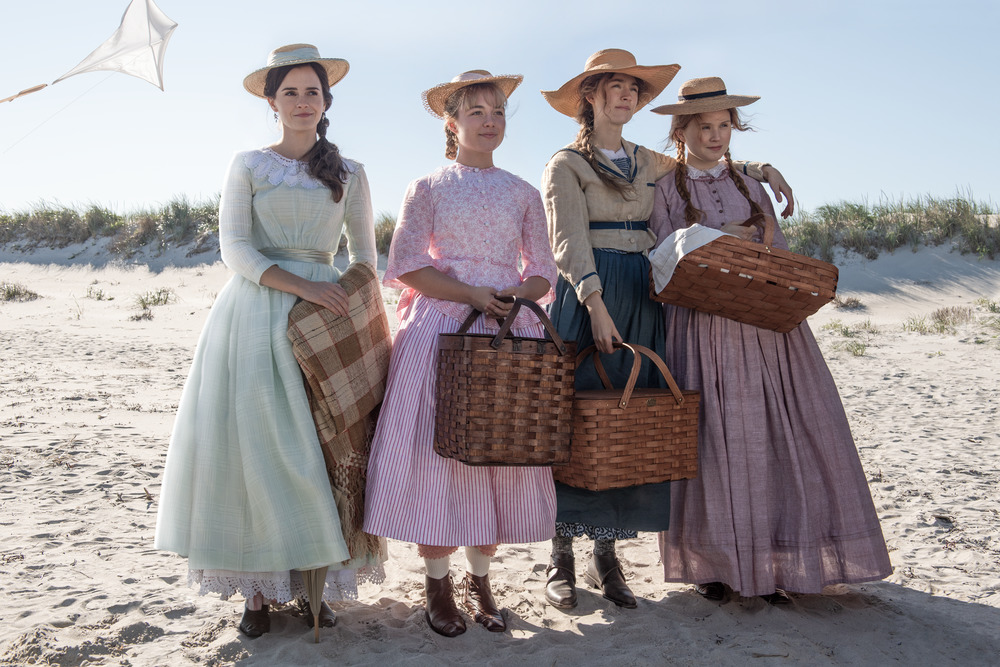 The movie focuses on the five women of the March family. The father (played by Bob Odenkirk when he finally makes an appearance more than halfway through the proceedings) is off doing Civil War missionary work, leaving behind his wife, Marmee (Laura Dern), and four daughters – Meg (Emma Watson), Jo (Saoirse Ronan), Beth (Eliza Scanlen), and Amy (Florence Pugh) – to fend for themselves in a situation of genteel poverty. The first timeline shows them living together under one roof with the primary subplots being the flirtation between Jo and the dilletante Laurie (Timothee Chalamet) and Jo's obsession to become a writer. The second timeline proceeds after Meg has married a penniless tutor, John Brooke (James Norton), and moved away; Beth is dying; Amy is in France with her wealthy aunt (Meryl Streep); and Jo is in New York, pursuing her writing and a romance with the accomplished German immigrant, Friedrich Bhaer (Louis Garrel).
Gerwig, as one might expect, hones in on the feminist aspects of Alcott's novel, focusing on Jo as the strongest figure in the movie (male or female) without deviating from the era-appropriate gender limitations. In other words, Jo is a forceful figure but not an anachronism. She is recognizably the same character Alcott brought to life on the written page. Gerwig is careful not to make Jo into an unassailable icon. Following a brief monologue in which she makes the case for exceptionalism, Jo utters the heartfelt, heartbreaking confession: "I'm so lonely."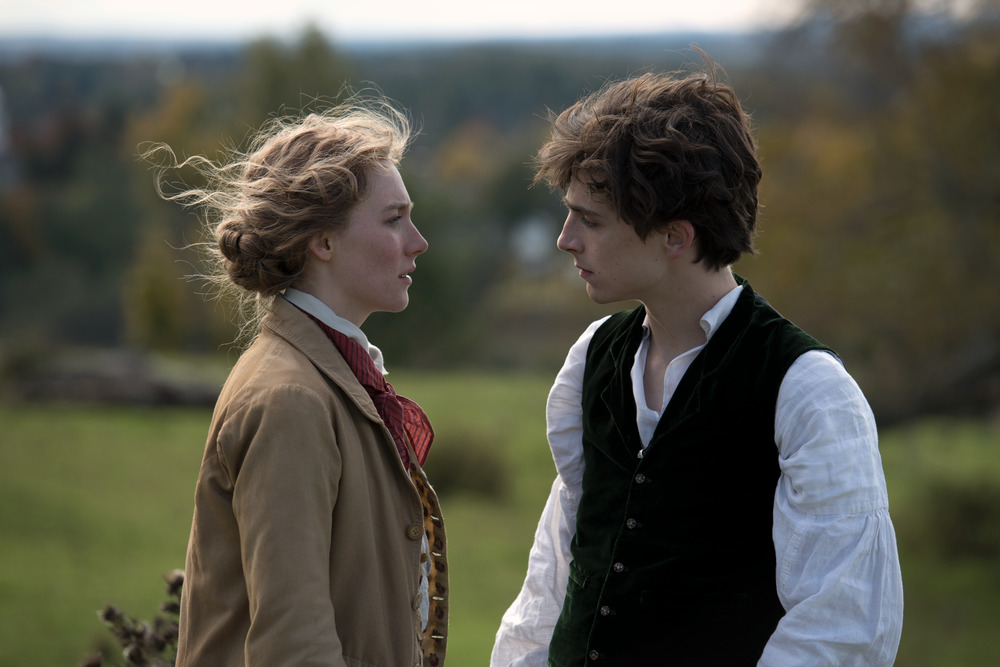 That moment, among many others, makes Saoirse Ronan's Oscar nomination case. It's no exaggeration to argue she may be the best-ever Jo March to grace the big screen (or the little one, for that matter, since Little Women has had its share of TV adaptations). Her acting demands recognition; she draws the camera's attention when she's on screen, which is most of the time, since the movie (like the book) favors her character. The other young actresses - Emma Watson, Florence Pugh, and Eliza Scanlen – offer capable portrayals but they don't shine as brightly as Ronan. Among the respected group of secondary performers, it may be surprising that the standout is not Meryl Streep (although her portrayal of Aunt March is enjoyable, if seemingly influenced by Maggie Smith's work in Downton Abbey). Instead, it's Chris Cooper, who brings depth to a role with minimal screen time.
When it comes to a production like Little Women, the salient question is whether this new interpretation is needed. Does it add to the existing body of Alcott-inspired work or is it superfluous? Because of the strength of the acting (Ronan's in particular) and Gerwig's unusual (love it or hate it) reworking of the novel's chronology and ending, it deserves to be seen. Time will tell whether it becomes as beloved for today's generation as the 1994 version was for those born in the 1970s and 1980s.
---
Little Women (United States, 2019)
Director:
Greta Gerwig
Cast:
Saoirse Ronan
,
Chris Cooper
,
Louis Garrel
,
James Norton
,
Bob Odenkirk
,
Timothee Chalamet
,
Laura Dern
,
Eliza Scanlen
,
Florence Pugh
,
Emma Watson
,
Meryl Streep
Home Release Date: 2020-04-07
Screenplay:
Greta Gerwig, based on the novel by Louisa May Alcott
Cinematography:
Yorick Le Saux
Music:
Alexandre Desplat
U.S. Distributor: Columbia Pictures
---

Three...better movies of this genre
worse movies of this genre
Three...better movies of Saoirse Ronan
worse movies of Saoirse Ronan
Three...better movies of Chris Cooper
worse movies of Chris Cooper
Three...better movies of Louis Garrel
(There are no more better movies of Louis Garrel)
worse movies of Louis Garrel
(There are no more worst movies of Louis Garrel)