Remember Me (United States, 2010)
March 11, 2010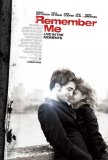 Spoiler Alert: This movie contains spoilers about the time frame during which the movie's ending transpires.
One suspects Remember Me would earn the official Nicholas Sparks Seal of Approval, if there was such a thing. This movie is the kind of overwrought, half-baked romantic drama that has become Sparks' stock-and-trade. So, for those who aren't concerned about an estrogen overdose and for whom two "legitimate" Sparks adaptations are not enough (the recent Dear John and the upcoming The Last Song), Remember Me effectively fills the gap. There's more contrived melodrama in these two hours than romance fans could reasonably hope for.
Remember Me represents Robert Pattinson's attempt to prove he can do more than sparkle like a faux vampire, but the case he presents is not convincing. He spends most of the movie trying to channel James Dean. Dean may have been overrated, but he had talent, charisma, and swagger. Pattison seems to lack the first two qualities and he may be faking the third. (Although that, in and of itself, would be a form of acting.) He spends most of this movie brooding, which allows him to work on his scowl. To be fair, some of Pattinson's low-key scenes with his female co-star, Lost's Emilie de Ravin (who is delightful) are nicely done, but the actor fails to impress when sharing the screen with the likes of Chris Cooper and Pierce Brosnan. The word "lightweight" seems entirely appropriate as a description of this leading man.
Remember Me opens with a short prologue set in 1991 that shows the train platform murder of the mother of 11-year old Ally Craig (played as an adult by de Ravin). Flash-forward 10 years to New York City during the spring of 2001. Rootless Tyler Hawkins (Pattinson), days short of his 22nd birthday, is thinking dark thoughts about his older brother, Michael, who committed suicide six years ago. To cheer up his roommate, Tyler's buddy, Aidan (Tate Ellington), prescribes girls and drinks. Things don't turn out well. Tyler becomes embroiled in an altercation and expresses displeasure with the attitude of the head cop at the scene, Sgt. Neil Craig (Chris Cooper). His pugnacious approach earns him a cut face and a night in the slammer. He is bailed out by a $450-per-hour lawyer put on the case by his estranged father, Wall Street honcho Charles Hawkins (Pierce Brosnan).
Aidan encourages Tyler to seek revenge on the police officer, and what better way to do it than by dating his daughter, Allie, who happens to be in Tyler's global politics class? Tyler contrives a meeting and the two hit it off. After a few dates and a fight between Allie and Neil, she moves in with Tyler and Aidan. That's when she learns that he has a sad and complicated life - he despises his father, pities his mother (Lena Olin), and genuinely loves only his younger sister, Caroline (Ruby Jerins). The more Tyler opens up to her, the more she reveals to him about the tragedy in her past.
The ghost of 9/11 hovers over this entire motion picture, making the date of its ending inevitable, although the moment when this happens feels like a sucker punch. Remember Me's first shot features a nighttime image of the Twin Towers, circa 1991. Later, in Tyler's political science class, there's a seemingly throw-away discussion about terrorists' motivations. The film allows events to move inexorably forward so we're aware of the clock ticking down: June, July, August, September. Despite all the foreshadowing, the way the event is presented reeks of exploitation. The ending might appeal to a die-hard nihilist, but I suspect the core members of the target demographic are going to be shocked and angered.
The romantic elements of Remember Me are the strongest components. There is a degree of chemistry between Pattinson and de Ravin (ironically, more than there is between him and his Bella, Kristen Stewart), so some of their more simple scenes work, especially if divorced from the heavy-handed plot and seen as stand-alone encounters. Unfortunately, the romance is built on a foundation of contrivances so absurd that it's impossible to ignore how forced and artificial the plot's development is. There are also some odd moments of discontinuity that may be explained by a discrepancy between the published running length (128 minutes) and the actual one (112 minutes). It would not surprise me to learn that 15 minutes were edited out of the theatrical release. The pacing is still slow but it would explain some of the gaps and mood swings.
Remember Me appears to have been designed as a chance for Pattison to ape James Dean while drawing on the popularity of his Twilight character as a means to sell the movie. As a pure romance, this is mediocre at best. As a drama, it's no better. The synthesis of these elements into a stew of less than appealing consistency, Remember Me is forgettable.
---
Remember Me (United States, 2010)
---
Three...better movies of this genre
worse movies of this genre
Three...better movies of Robert Pattinson
worse movies of Robert Pattinson
Three...better movies of Emilie de Ravin
(There are no more better movies of Emilie de Ravin)
worse movies of Emilie de Ravin
(There are no more worst movies of Emilie de Ravin)
Three...better movies of Chris Cooper
worse movies of Chris Cooper
(There are no more worst movies of Chris Cooper)