Licorice Pizza (United States, 2021)
December 22, 2021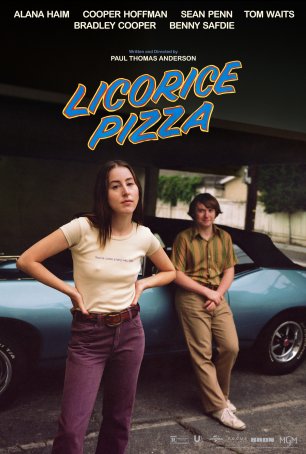 I wish there were more movies like this. Licorice Pizza, Paul Thomas Anderson's most uplifting movie to-date, may give some viewers a flashback to the days when Cameron Crowe was at the height of his powers. It's that kind of movie: sweet and romantic with plenty of offbeat quirks and unexpected beats while never becoming saccharine or artificial. Based in part on the life and times of Hollywood producer Gary Goetzman, Anderson plays fast and loose with the facts while creating a part coming-of-age story/part teen rom com that defies many of the tropes and traditions of both genres. A warm and loving Valentine to the San Fernando Valley of the 1970s, it never allows nostalgia to overwhelm narrative, although there's plenty of the former to go around.
Call it When Gary Met Alana. That first happens when Gary (Cooper Hoffman) sees Alana (Alana Haim) in his high school gym. He's there to get his picture taken; she's there to help take the picture. The revelation that she's a decade older doesn't dissuade him from chatting her up and eventually asking her out on a date. His sophistication at verbal sparring surprises her; her decision to show up for the date surprises her even more. For Gary, it's love at first sight – he has decided that Alana is the woman he's going to (someday) marry. For Alana, it's confusing. She's attracted to Gary on some level but she can't believe she's hanging out with him and his age (15) is a barrier to any level of physical intimacy. So they become friends, pal around, and things start to click. She becomes jealous when he turns his attention to girls his age. He becomes jealous when she hangs out with Hollywood types. They open a business together and argue like best friends often do.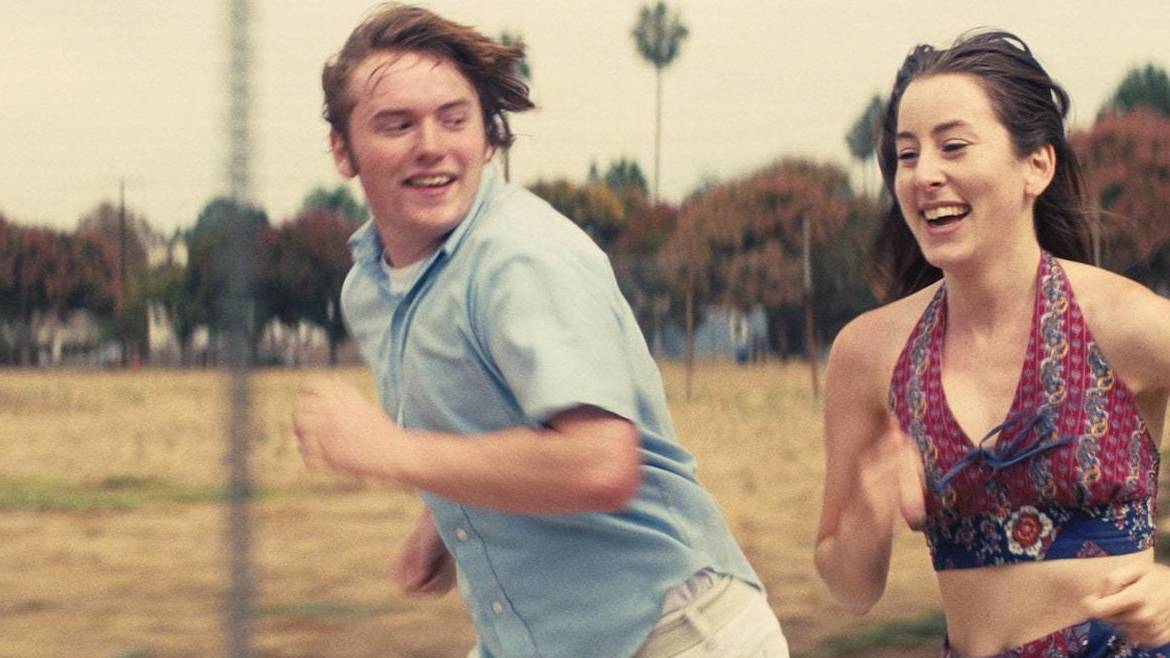 I evoked the name of Cameron Crowe earlier because, watching Licorice Pizza, I got many of the same vibes I had during Crowe's two best movies, Say Anything and Almost Famous. Plot-wise, there aren't a lot of similarities (beyond the "impossible romance between young people" angle), but the tones are similar and the ways in which the narratives progress, with unexpected and offbeat detours, share the same approach. It has been a while since Anderson has been in peak form – although Phantom Thread, Inherent Vice, and The Master had laudable qualities, they weren't on the same level as his early work. It's refreshing to see him come roaring back in such an unexpected way.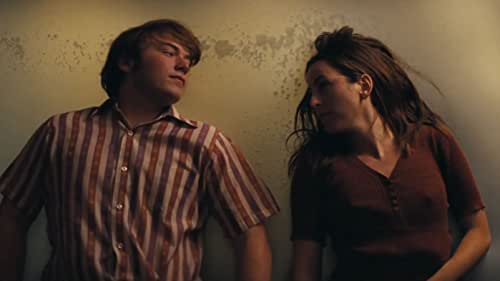 While the romance between the Boy Wonder and the Confused Older Woman forms the movie's backbone, it's by no means the only thing going on here. Licorice Pizza allows Anderson to meander through his past. He grew up in the San Fernando Valley during the 1970s and 1980s and this film, set in that place during that era, allows him to not only re-live those days but recreate them (the period detail is excellent). There's also a coming-of-age aspect to the story as it relates to both characters. However, although Gary is chronologically younger than Alana, his personality is more established at the beginning of the film that hers is. As a result, this is more about her journey (as a late-bloomer) than his. But he's definitely along for the ride.
A glance at the cast list reveals some surprising names: a Hoffman, a Spielberg, a DiCaprio, a Tim Conway Jr. – all relatives of famous people. The only one of these to have a major role is Cooper Hoffman (the son of Philip Seymour Hoffman, a frequent collaborator of Anderson's). Sasha Spielberg (daughter of Steven and Kate Capshaw), Tim Conway Jr. (son of Tim Conway), and George DiCaprio (father of Leonardo) illustrate how deeply embedded in Hollywood royalty Anderson has become. Of course, there are plenty of big names in the small roles: Sean Penn plays legendary screen star Jack Holden (based on William Holden) and Bradley Cooper plays an off-the-wall fever-dream version of hair-dresser-turned-producer Jon Peters (who apparently gave Anderson his blessing for this fictionalized portrayal).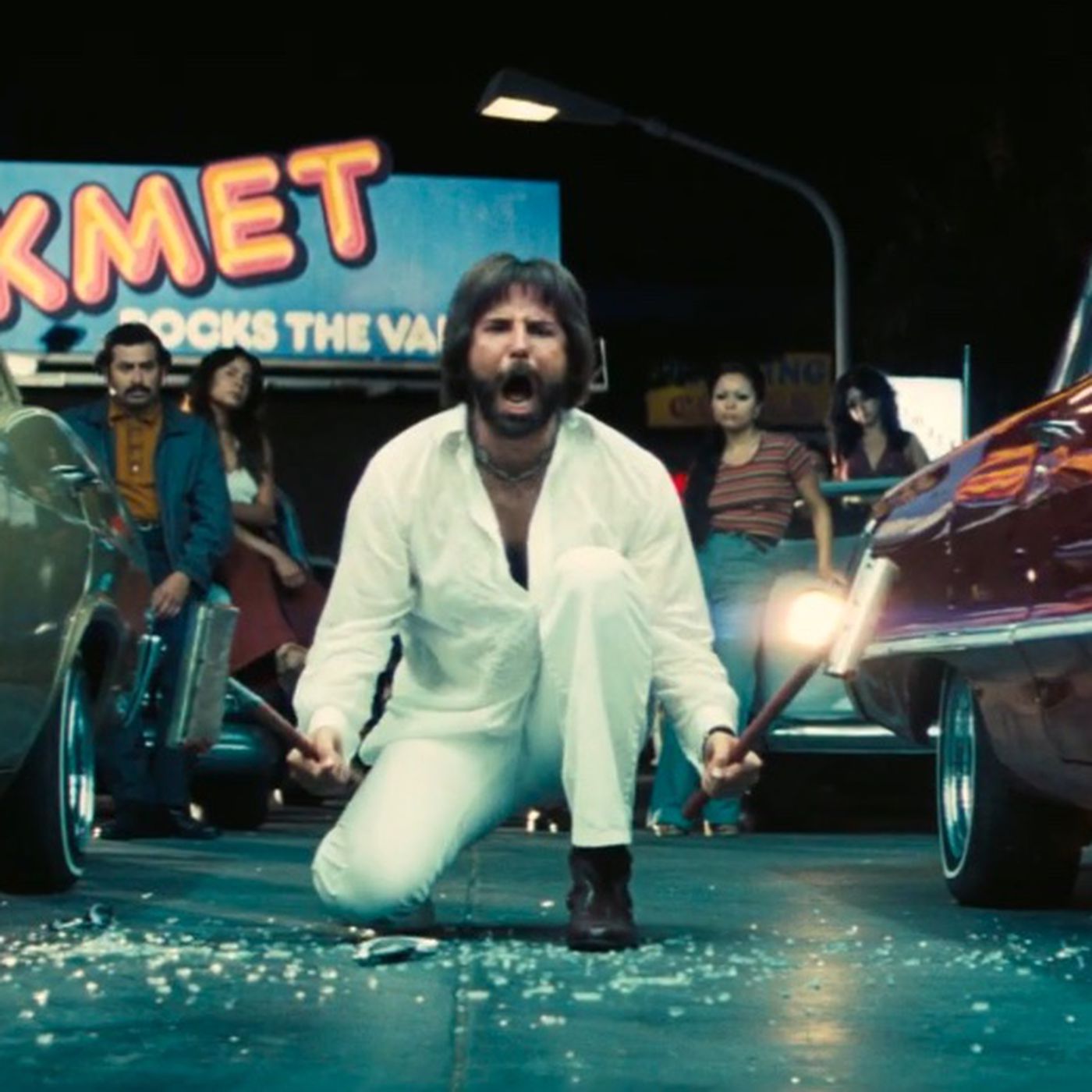 The stars are newcomers. Both are revelations. 18-year-old Cooper Hoffman shows that, at least in terms of acting, the apple doesn't fall far from the proverbial tree. Hoffman's interpretation of Gary is confident and energetic. He's vulnerable when he needs to be but, more often, he finds the character's wellspring of determination and runs with it, at times seeming almost like a feline batting at a catnip toy. Alana Haim was known to Anderson before he embarked on Licorice Pizza. A member of Haim (with her sisters, who appear as siblings to the character in the film), she moved onto the director's radar when he starting lensing the group's videos in 2017. This is her feature debut and she's a natural talent, using subtle facial expressions and body language to supplement an unforced charisma. Despite a 10-year age gap (which is part of the script), she and Hoffman share the kind of sometimes-playful, sometimes-intense chemistry that makes the romance work.
Like seemingly every prestige movie released during 2021, this one exceeds the two-hour mark. The difference is that Licorice Pizza earns its length and, when the story is over, it has the good grace to cut to the credits rather than drag on for another five or ten minutes (or more). There's something delightfully old-fashioned about the movie, almost as if Anderson found inspiration from the time period in which the film is set. 2021 hasn't been a great year inside or out of theaters. It's pleasant to find a balm like this one waiting for us near the finish line.
---
Licorice Pizza (United States, 2021)
Director:
Paul Thomas Anderson
Cast:
Cooper Hoffman
,
Maya Rudolph
,
Christine Ebersole
,
Mary Elizabeth Ellis
,
John Michael Higgins
,
Benny Safdie
,
Bradley Cooper
,
Tom Waits
,
Sean Penn
,
Alana Haim
,
Skyler Gisondo
Home Release Date: 2022-05-17
Screenplay:
Paul Thomas Anderson
Cinematography:
Michael Bauman, Paul Thomas Anderson
Music:
Jonny Greenwood
U.S. Distributor: MGM/UA
---

Three...better movies of this genre
worse movies of this genre
Three...better movies of Cooper Hoffman
(There are no more better movies of Cooper Hoffman)
worse movies of Cooper Hoffman
(There are no more worst movies of Cooper Hoffman)
Three...better movies of Maya Rudolph
worse movies of Maya Rudolph
Three...better movies of Christine Ebersole
(There are no more better movies of Christine Ebersole)
worse movies of Christine Ebersole
(There are no more worst movies of Christine Ebersole)