Away We Go (United States/United Kingdom, 2009)
June 02, 2009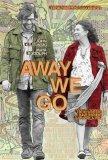 It may be fair to consider Away We Go as Sam Mendes' penance for Revolutionary Road. The director's late-2008 Winslet/DiCaprio reunion was an immersion in bile - an acidic trip underneath the placid exterior of mid-20th century suburbia to a rot that David Lynch would appreciate. To apologize, or at least argue that his view of the human condition is perhaps not so misanthropic, Mendes has crafted the far gentler Away We Go, a lighthearted road trip movie that celebrates the importance of family while delivering a few laughs and maybe a tear or two. Away We Go is not as dramatically wrenching as Revolutionary Road, but it's unquestionably more enjoyable.
The film opens with live-in lovers Burt Farlander (John Krasinski) and Verona De Tessant (Maya Rudolph) discovering that she is pregnant. The next time we meet the couple, who share a cramped Connecticut abode, they are ready to visit his parents (Jeff Daniels and Catherine O'Hara) for dinner, armed with sonogram pictures. But Mom and Dad drop a bombshell - they're about to move to Antwerp for two years, leaving Burt and Verona without their expected support system (Verona's parents are dead). The thirtysomething couple is taken aback, but they decide that maybe change is a blessing. So they begin to tour the continent in search of a new place to call home, staring in Phoenix and Tucson, heading north to Madison then Montreal, and ending up in Miami. As in all road movies, it's more about the journey than the destination, and that is especially true here, since the end point is unknown, at least at the beginning.
Away We Go is in many ways a very traditional road movie, with the various stops along the way offering new prisms through which the characters can see each other and re-examine their lives. There's a little angst, but not much. This is intended as a more upbeat trek than what one might normally expect from Mendes, who has a fondness for the darker things in life. We meet the usual rogues' gallery of "quirky" characters. These include Verona's touchy-feely ex-boss (Allison Janney) in Phoenix, Burt's new-age hippie "cousin" (Maggie Gyllenhaal) in Madison, married friends from college (Chris Messina and Melanie Lynskey) in Montreal, and Burt's brother (Paul Schneider), who has recently been abandoned by his wife.
Each of their stops offers Burt and Verona a different perspective on how the parenting of others should or should not be applied to their own impending family. Meanwhile, Verona has unresolved feelings about her mother and father, who died when she was 22, that she has been unwilling to face for a dozen years. A visit to her Tucson-based sister (Carmen Ejogo) and reflections upon her own situation force her to confront her memories and bury the past in a way that is life-affirming.
Expecting parents often take time to contemplate their lifestyles when considering the world into which they are ushering a child. Away We Go italicizes this point. With the exception of Verona's sister, every character encountered by the couple is in a parenting situation. In the space of a few short weeks, Burt and Verona learn a lot about sacrifice, love, and how not to raise a child. They see the good, the bad, and the ugly. They learn to understand a little more and, through that understanding, face what lies ahead of them. That leads them home.
The Office's John Krasinski brings an offbeat cheerfulness to his character. Burt remains upbeat in almost any situation, and he's undeniably devoted to the women he loves, even though she steadfastly and repeatedly turns down his marriage proposals. Maya Rudolph, hitherto known primarily for her work on Saturday Night Live, is something of a revelation. She makes a seamless transition from comedy to dramedy. This is a solid, mostly serious performance. When Rudolph gets laughs, they germinate out of the actions of the character, not because she does something obviously intended to be "funny." Rudolph and Krasinski exhibit a low-key but genuine chemistry; we believe these two love each other. Their moments of vulnerability (such as when Verona laments how "unattractive" she has become because of her big belly) are as honest as those of humor. Away We Go works because this coupling works.
The supporting cast is hit-and-miss, with some notable actors seeming out-of-place. Jeff Daniels and Catherine O'Hara belong in a different movie - the dinner table scene with them reeks of artifice. We're meant to see them as shallow and unengaged, but they come across as absurd. They are too broadly sketched. Similarly, Maggie Gyllenhaal's freewheeling, ditzy family friend is more of a caricature than a character. The hippie thing is taken to extremes, although the bit with the stroller is amusing. The other members of the secondary roster portray individuals who, if not always dignified, are at least believable. And, although the turns by Daniels, O'Hara, and Gyllenhaal can be jarring for a film with such a smoothly modulated tone, they do not irreparably damage the delicate balance between drama and comedy for which Mendes is striving.
Focus Features is releasing this film into the summer marketplace, hoping that a portion of the audience, weary of action and special effects, will gravitate toward something more personal and character based. Away We Go, like the trip embarked upon by the lead characters, is a pleasant journey to take. It blazes no new trails but uses a familiar template to introduce a couple whose problems are as real as the affection they feel for one another, and whose company is more than worth 90 minutes of a viewer's time.
---
Away We Go (United States/United Kingdom, 2009)
Director:
Sam Mendes
Cast:
John Krasinski
,
Melanie Lynskey
,
Chris Messina
,
Josh Hamilton
,
Maggie Gyllenhaal
,
Carmen Ejogo
,
Jim Gaffigan
,
Allison Janney
,
Catherine O'Hara
,
Jeff Daniels
,
Maya Rudolph
,
Paul Schneider
Screenplay:
Dave Eggers & Vendela Vida
Cinematography:
Ellen Kuras
Music:
Alex Murdoch
U.S. Distributor: Focus Features
---
Three...better movies of this genre
worse movies of this genre
Three...better movies of John Krasinski
worse movies of John Krasinski
Three...better movies of Melanie Lynskey
worse movies of Melanie Lynskey
(There are no more worst movies of Melanie Lynskey)
Three...better movies of Chris Messina
worse movies of Chris Messina