Mr. Malcolm's List (United States, 2022)
June 28, 2022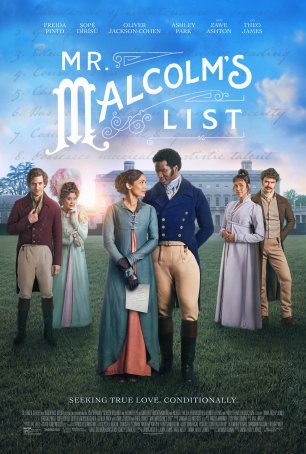 Mr. Malcolm's List feels a lot like a watered-down version of Netflix's hit streaming series, Bridgerton (although, to be fair, Mr. Malcolm's List is based on a short film that came into being before Bridgerton went before cameras). Both are heavily inspired by Jane Austen but feature Regency Era-incongruous, color-blind casting that transitions them into a fantasyland of sorts. I'm not a fan of Bridgerton but at least it was saucy enough to hold my interest. Mr. Malcolm's List, however, carries a PG rating, meaning that the most sexual it ever gets is a kiss. Even the notoriously puritanical MCU evinces more hormones. If filmmakers feel an overwhelming love for Pride & Prejudice, why not make a new adaptation of the actual book instead of cobbling together bits and pieces into an inferior storyline that makes one yearn for Colin Firth and Jennifer Ehle (or, failing them, Matthew Macfadyen and Kiera Knightley)?
Mr. Malcolm's List is set in almost exactly the same time period as Pride & Prejudice (the 1810s), although it begins with a brief prologue in 1802 which introduces the undying devotion between two finishing school girls. They grow up to be Selina Dalton (Freida Pinto) and Julia Thistlewaite (Naoko Mori). While Selina's low social standing (she's a minister's daughter of no means) forces her to endure marriage proposals from unappealing old men, Julia sets her sights on the rich, eligible bachelor Jeremy Malcolm (Sope Dirisu). Jeremy, however, is a popular target for fortune hunters so he has developed a list. For him to consider any woman as a wife, they must check the ten boxes on his list and Julia fails rather spectacularly when it comes to having a substantive conversation. Jeremy's decision not to continue courting her causes her considerable public humiliation, resulting in a drop in her social standing.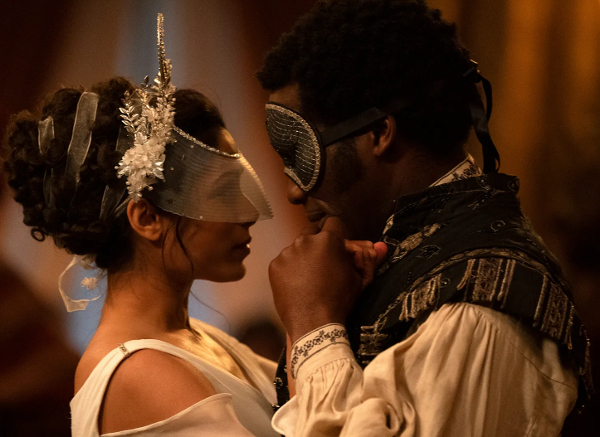 Julia vows revenge and concocts a scheme to repay Jeremy in kind. She invites Selina for a visit and proposes for the other woman to beguile Jeremy then, when he is besotted and ready to propose, she will spurn him because he doesn't fulfill all the criteria on her list. Also involved is Julia's good friend Lord Cassidy (Oliver Jackson-Cohen), although his motives are less bitter than Julia's. Selina is initially reluctant and, as she gets to know Jeremy, she finds herself genuinely drawn to him. His hauteur, however, becomes a barrier and brings out the fight in Selina.
I don't in principle have a problem with Jane Austen knock-offs, but I do have one with those that are either poorly conceived and/or poorly executed. Mr. Malcolm's List seems more concerned with the uniqueness of having a multicolored cast for a story that would normally be populated by lily-white actors. At one point, that might have been considered daring but it has been done often enough that the uniqueness has worn off. (Actually, it might be fascinating to have a strict re-telling of Pride & Prejudice with a non-white Lizzy and/or Darcy.)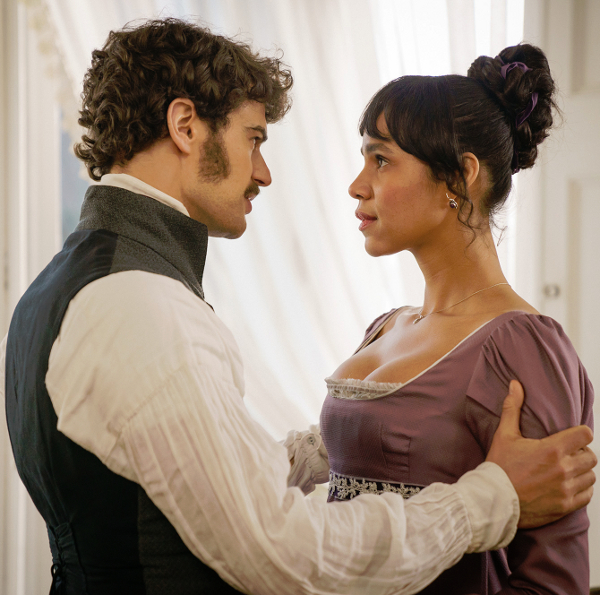 When it comes to rom-coms, regardless of whether they're modern-day high school affairs or period pieces, the most important aspect relates to chemistry between the leads. Viewers expect and accept all the cliches but narrative weaknesses are easily overcome when the protagonists have a connection. Unfortunately, in Mr. Malcolm's List, the iciness between Selina and Jeremy never fully melts. There's a stiffness in the interaction between Freida Pinto and Sope Dirisu. It's not that either actor gives a bad performance but they don't sizzle as a couple. It also doesn't help that the screenplay fails to offer them enough meaningful scenes together for us to start to believe in them as possible lovers. Consequently, it's difficult to root for them to get together and, when the inevitable happens, it doesn't create the surge of giddiness that results in the best movies of the genre.
Despite being accorded a theatrical release by distributor Bleecker Street, Mr. Malcolm's List would seem to be a better fit for a streaming service. There's nothing in the film that warrants a trip to a multiplex. It's surprising to learn that director Emma Holly Jones and screenwriter Suzanne Allain have been working on this for a decade (Allain self-published the source material in 2009) – that's a lot of time and effort for a derivative project that offers little that's new and less that's unexpected. Genre fans may perceive it as good enough to scratch an itch but no matter how well it eventually incorporates the various Pride & Prejudice tropes, it's hard to see this as more than obligatory and unnecessary.
---
Mr. Malcolm's List (United States, 2022)
Run Time: 1:55
U.S. Release Date: 2022-07-01
MPAA Rating:
"PG"
Genre:
Romance/Drama
Subtitles: none
Theatrical Aspect Ratio: 2.35:1
---
Three...better movies of this genre
worse movies of this genre
Three...better movies of Freida Pinto
worse movies of Freida Pinto
(There are no more worst movies of Freida Pinto)
Three...better movies of Zawe Ashton
(There are no more better movies of Zawe Ashton)
worse movies of Zawe Ashton
(There are no more worst movies of Zawe Ashton)
Three...better movies of Sope Dirisu
(There are no more better movies of Sope Dirisu)
worse movies of Sope Dirisu
(There are no more worst movies of Sope Dirisu)