No Hard Feelings (United States, 2023)
June 23, 2023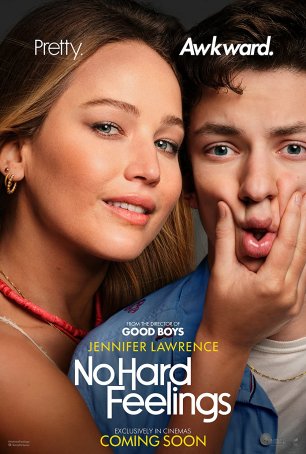 No Hard Feelings is an odd movie in that films of this sort have fallen out of vogue in the 21st century and are rarely accorded any sort of theatrical release. (The box office results will determine whether the decision to reject a direct-to-streaming route was the best approach.) The movie starts out as an '80s-inspired sex comedy (with Hall & Oates' 1982 hit "Maneater" providing an anthem of sorts) with all the necessary elements before morphing into a less ambitious dramedy with an ending that, although not offering any true surprises, at least avoids a few of the more obvious clichés. In terms of tone, it's reminiscent of The Last American Virgin, whose unconventional ending divided audiences at the time. No Hard Feelings won't be as controversial but it at least tries something different.
The movie's central failing is that the comedic elements aren't as consistent or funny as they should be. Too many of the jokes are forced and flabby and, as good an actress as Jennifer Lawrence is, there are times when she's defeated by the slapstick elements of her performance. (It's almost painful to watch her navigate a staircase while wearing roller skates. Painful and not even a little funny.) Later in the film, however, as the material sheds some of its artificiality, her star quality emerges. (Note how good her reaction shots are during the impromptu piano recital.) She and co-star Andrew Barth Feldman develop a solid rapport with just the right mix for their unconventional (and, some might argue, creepy) relationship.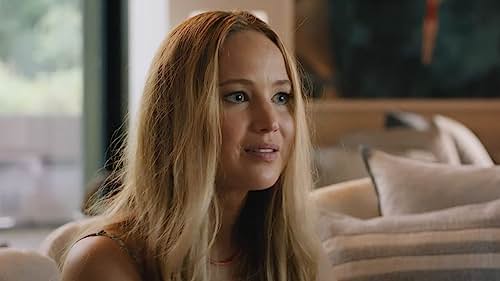 No Hard Feelings is set in Montauk and the film attempts, without much success, to say something about the love/hate relationship between year-round residents and summer visitors in "vacation communities." Maddie Barker (Lawrence), a 32-year-old Uber driver/bartender, is currently underwater paying her property tax bills. Although her cozy little house, which she inherited from her mother, is mortgage-free, that doesn't mean it's inexpensive to live there. When her car is repossessed, leaving her without any way to participate in the ride-share program, she turns to Craigslist in desperation. She latches onto an advertisement placed by parents soliciting the services of a young, vivacious, open-minded woman to "date" their Princeton-bound, socially-awkward son, Percy (Feldman). The "dating" would involve bringing the young man out of his shell and getting him ready for college. That the mother initially refers to Maddie as a "sex worker," is an indication of what Laird and Allison Becker (Matthew Broderick and Laura Benanti) expect from Maddie. Her payment for getting the job done: a slightly-used car that will enable her to get back to doing Uber jobs during the busiest season of the year.
No Hard Feelings skirts the edges of the rom-com genre without fully committing. That might have something to do with the age difference between the characters – Maddie is 32 and Percy is 18 – but it gets a lot of mileage out of the differing levels of sexual experience of the two. Maddie, eager to earn her payday by stripping Percy of his virginity, has a predatory approach. She's so aggressive that she gets maced on one occasion and into a beach brawl on another. Percy, on the other hand, is a classic nerd – he's curious about sex but isn't in a hurry to give up his abstinence. In a classic case of role reversal, the male is the romantic who needs to be seduced and the woman is the one leaving a trail of one-night stands and broken relationships behind her.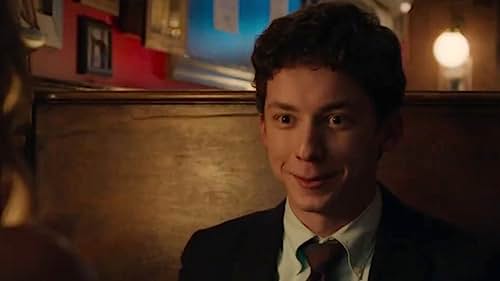 Director Gene Stupnitsky brings along some of the sense of irreverent raunchiness that characterized his feature debut, Good Boys. Although Stupnitsky never ventures far afield from the tropes embedded in the story's genre, there are times when the film offers some interesting minor twists. The humor is uneven at best, with too many of the best gags included in the trailer, leaving a lot of the lesser ones for a theatrical unveiling. Criticism that the movie promotes grooming and sexual exploitation is easily deflected – the production is self-aware about these issues and the manner in which the screenplay is written makes it clear that No Hard Feelings doesn't condone these things. The "ickiness" factor is part of the movie's DNA. One reason why a lot of '80s sex comedies don't work in today's environment is that they were more stupid. It often tries too hard for laughs and gets cringes instead. Lawrence and Feldman play well off one another, but the movie needs more than that chemistry to be an unqualified success.
---
No Hard Feelings (United States, 2023)
---

Three...better movies of this genre
worse movies of this genre
Three...better movies of Jennifer Lawrence
worse movies of Jennifer Lawrence
Three...better movies of Andrew Barth Feldman
(There are no more better movies of Andrew Barth Feldman)
worse movies of Andrew Barth Feldman
(There are no more worst movies of Andrew Barth Feldman)
Three...better movies of Matthew Broderick
worse movies of Matthew Broderick