Race (France/Germany/Canada, 2016)
February 19, 2016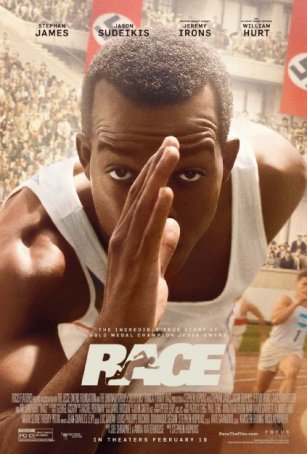 Race doesn't challenge our expectations of what constitutes a competent bio-pic. Opting for a straightforward telling of a (mostly) true story, the filmmakers have moved forward with an abundance of reverence. I'm reminded of 2013's 42, a fact-based excursion into the life and times of baseball great Jackie Robinson. Race, like 42, does a workmanlike job of bringing the lead character to life and explaining his historical importance, but it fails to transcend the genre.
Race chronicles three storylines related to the 1936 Berlin Olympics. The most significant is rise to prominence of sprinter Jesse Owens (Stephan James), who overcomes a surfeit of obstacles - not the least of which is the racial prejudice rampant in the South during the segregation era - to become one of the country's representatives at the international games. A secondary narrative explores the struggles of filmmaker Leni Riefenstahl (Carice van Houten) to craft the documentary Olympia despite interference from Nazi propaganda minister Joseph Goebbels (Barnaby Metschurat). There's also a dispute in America's Olympic organizations between Avery Brundage (Jeremy Irons) and Jeremiah Mahoney (William Hurt) about whether there should be a boycott.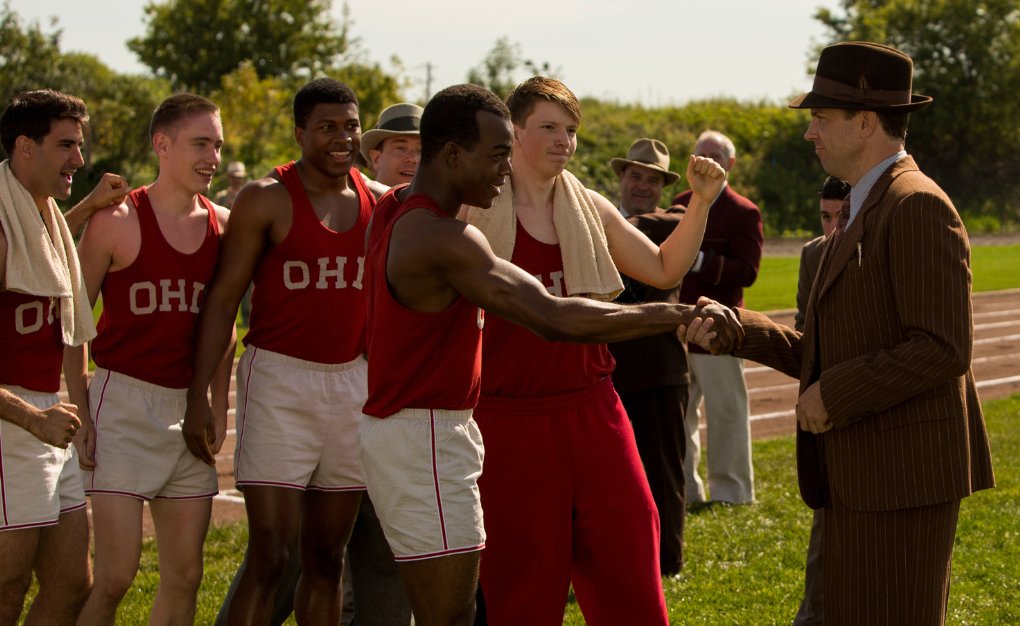 As a slightly fictionalized account of Jesse Owens' rise to fame, Race is a solid effort. However, it lacks anything to differentiate it from a generic bio-pic. The movie hits all the "high points" of Owens' life but skims over details not germane to his Olympic bid. At times, it feels rushed. Many scenes are familiar - as if we have seen them in other biographies about individuals who faced and triumphed over persecution. Also, the Riefenstahl and Brundage subplots are so truncated as to be more distractions than organic offshoots of the main storyline, providing a little color and some context while stealing time away from Owens' tale.
When it comes to addressing moral issues, Race displays no reticence. It asks a question few might consider in retrospect: Would Owens have made a more important statement by boycotting the games? (We can wonder what his legacy might have been if he had heeded the advice of some leaders in the black community and refused to be part of the team.) The film also emphasizes how little difference there was between Germany's and America's treatment of people of color. Consider Race's final scene in which Owens is forced to use the service entrance at an upscale New York City hotel even though he is the guest of honor at a banquet.
Race's recreation of the 1936 games and venues is expertly accomplished. The sense of verisimilitude is palpable. To enhance this, care was taken to replicate the images from still photographs and Olympia. One of the most effective moments occurs when The Fuhrer declares the games to be open; the crowd's reaction exhibits an almost religious passion - a fervor that would lead Germany into war within a few short years.
The acting is solid across-the-board, with Stephan James deserving special notice. It can be difficult portraying an icon but James distills Owens' humanity. Jason Sudeikis (as Owens' college coach and mentor) acquits himself admirably in his first purely dramatic role. Neither Jeremy Irons nor William Hurt has a great deal of screen time but their names add prestige to the production.
Perhaps the strongest argument against Race is that a film this important deserves more than a standard, by-the-numbers treatment. Although there's nothing terribly wrong about the movie, there's nothing special about the way in which it presents a remarkable 20th century chapter. The bare necessities are there, the performances are competent, and there are some strong moments but Race suffers from a lack of ambition. It's too safe and that quality mutes its impact and limits its ability to be more than a history lesson.
---
Race (France/Germany/Canada, 2016)
---

Three...better movies of this genre
worse movies of this genre
Three...better movies of Stephan James
(There are no more better movies of Stephan James)
worse movies of Stephan James
(There are no more worst movies of Stephan James)
Three...better movies of Jason Sudeikis
worse movies of Jason Sudeikis
Three...better movies of Jeremy Irons
worse movies of Jeremy Irons