Movies with music written by Rachel Portman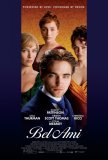 Bel Ami
If the goal of Bel Ami was to capture a fleeting flavor of Dangerous Liaisons, the intention should be deemed a failure. Based on Guy de Maupassant's 1885 novel, Bel Ami is the meandering, unfocused tale of the rise of an unprincipled opportunist i... Beloved
Beloved, Jonathan Demme's much-anticipated adaptation of Toni Morrison's novel, is a powerful and disturbing motion picture that is likely to leave many movie-goers unsettled as they file out of the theater. Although the movie probably runs a litt... Cider House Rules, The
Note to readers: this review contains spoilers. While I do not believe the revelation of certain plot points will in any way compromise the viewing experience, those who wish to see The Cider House Rules without having previous knowledge of certain...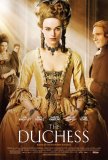 Duchess, The
It seems that an inordinate number of movies produced by BBC Films take us back in time to an England That Was, where class structures were as rigid as women's corsets and royalty meant more than a ceremonial title. In many cases, there's a samene... Emma
It's the romantic buried inside each of us that responds to movies like Emma. Sure, the film, like the Jane Austen novel upon which it is based, is laced with wit and sophistication. And, although it contains enough social commentary and char... Ethan Frome
When we first meet Ethan Frome (Liam Neeson), he is a broken man hobbling around town. The new preacher takes an interest in him and soon learns the tragic tale of Frome's life. Years ago, as a younger and more hale man, Ethan married Zeena (Joan...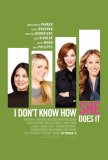 I Don't Know How She Does It
It's a challenge faced by every workaholic parent: balancing the time-sucking pressure of a high-profile job with the needs of a family. Because of societal expectations and traditional norms, women typically face more scrutiny and criticism than m... Infamous
Another year, another movie about Truman Capote. However, despite covering much the same ground as last year's Capote, Douglas McGrath's Infamous doesn't feel like a remake. The events are the same, but the tone and perspective are different. Ca... Lake House, The
Although this may amount to oversimplification, Alejandro Agresti's The Lake House is essentially a romance between two people connected by a time-traveling mailbox. As premises go, this has the virtue of uniqueness - Hollywood doesn't churn out t... Manchurian Candidate, The
As remakes go, The Manchurian Candidate is better than most. It remains faithful to the premise and themes of the original, but, by avoiding a slavish re-interpretation, it offers some surprises to those who are familiar with the 1962 version. Ye...