Movies starring Tobey Maguire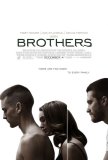 Brothers
Brothers is arguably the most successful remake of a foreign film since Martin Scorsese reworked Infernal Affairs into The Departed and won the Oscar. By remaining rigorously faithful to Susanne Bier's 2004 Danish feature, Brodre, screenwriter Dav... Cider House Rules, The
Note to readers: this review contains spoilers. While I do not believe the revelation of certain plot points will in any way compromise the viewing experience, those who wish to see The Cider House Rules without having previous knowledge of certain... Good German, The
The Good German, Steven Soderbergh's film noir homage, is nearly perfect when it comes to style and tone, but it concentrates so single-mindedly on the mechanics of the narrative that it loses sight of its characters. The movie meticulously steps ... Ice Storm, The
Perceptive is the best single word I can come up with to describe The Ice Storm, Ang Lee's near-masterpiece that deconstructs the American family. For, although the film is provocative, entertaining, and impeccably crafted, its greatest streng... Pleasantville
Welcome to a world where Father knows best, where Mother cooks dinner, and where Sister and Brother's small missteps are treated with stern-but-kind lectures. It's a realm where everyone is nice to one another, where neighbors greet each other... Ride with the Devil
Most Civil War films - and there have been quite a few over the years - have a tendency to skew their perspective towards the Northern viewpoint. It's not hard to understand why - the old South may have been North America's final refuge for a gent... Seabiscuit
Seabiscuit is the great hope of the adult movie-going audience: a summer motion picture that is not designed to appeal to teenage boys. Ordinarily, one might think it would be a risk on Universal's part to release the movie in late July, but the a... Spider-Man
Recent times have been good to Marvel comics, and the long-anticipated arrival of Spider-Man represents the latest step up the ladder. Long the underdog in the motion picture arena, Marvel has at last been able to catch up to rival DC comics by pl... Spider-Man 2
Spider-Man 2 has all the elements of a good, but not great, superhero motion picture. While lacking the tragic grandeur that made last year's Hulk such a unique experience, Spider-Man 2 fills the void with solid character development, self-referen... Spider-Man 3
The Spider-Man series, which debuted in 2002 and continued in 2004 and 2007, represents the first superhero cycle to complete a trilogy with the same primary cast and production team it had at the beginning. If nothing else, that assures viewers o...