Secretariat (United States, 2010)
October 06, 2010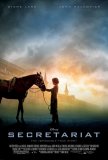 Secretariat joins Disney's pantheon of sports movies about underdogs that defy odds and become champions. Of all the movies in this group (which includes Remember the Titans, The Rookie, Invincible and Miracle), this is the least effective, in large part because it's more difficult to dramatize the rise to prominence of a character without speech. So, instead of giving the title horse a voice and calling him Mr. Red, the producers decide instead to focus on Secretariat's owner, Penny Chenery (Diane Lane), which allows the script to drown in numerous clichés. The racing sequences are effectively done and Secretariat's quest for horse racing's Triple Crown concludes with one of those stand-up-and-cheer moments, but the story as a whole seems stale and overly familiar.
Secretariat sticks to the facts, albeit in a Disneyfied manner, meaning that bits and pieces of the horse's story are cherry-picked to fit the "family entertainment" aspect of the feature. Secretariat, one of horse racing's greatest champions, won the Triple Crown in 1973, so a movie about the animal's exploits is perhaps overdue. Sadly, this mediocre effort doesn't do the horse or his achievements justice. The problems are twofold: a lack of focus and the need to force all elements of the story into a clearly delineated formula. It makes for humdrum movie viewing and demonstrates the superior talent and craftsmanship that went into 2003's Sea Biscuit.
The film follows the efforts of Penny Chenery to develop Secretariat into the champion he would become while, at the same time, steadfastly refusing to sell him to pay off the massive estate tax that arises from the death of her father (Scott Glenn). To train Secretariat, she hires the stubborn and unconventional Lucien Laurin (John Malkovich), who uses this opportunity to reverse his reputation as a loser. For a jockey, she brings aboard Ron Turcotte (Otto Thorwath), who puts as much into his races as he demands from his steeds. Her ally is Ogden Phipps (James Cromwell), one of 32 rich individuals to have bought the syndicated breeding rights to Secretariat - provided the animal can perform on the track. The villain of the piece is Pancho Martin (Nestor Serrano), the owner of Secretariat's chief nemesis in all three Triple Crown races.
Had Secretariat concentrated more on the races and the minutia surrounding them, the results might have been more successful. Instead, however, the movie attempts to tell the individual stories of two significant characters (Penny and Lucien) and several minor ones. By fragmenting its focus and diluting its attention, the subdivided narrative never takes off except during the racing scenes. Penny's life is mundane. Secretariat re-invigorates her but drives a wedge between her and her husband, John (Dylan Walsh), who would prefer for her to stay at home and care for the kids. The horse brings her closer to her oldest daughter, however, who, like her mother, is out "doing her thing" and following her dream (in this case, protesting against the Vietnam War). Lucien, meanwhile, is the stereotyped flawed genius who finds a chance at redemption through his training of an eventual Triple Crown winner. It's all predictable and obvious, and director Randall Wallace brings it to the screen in a by-the-numbers manner.
Secretariat has an A-list cast, although no one gives an A-list performance. That's not to say the acting is bad, but there are no standouts. Diane Lane, dressed in period garb with a period hairdo and a halo to match, is the perfect example of a self-sufficient middle-aged woman who is determined to make her mark in the world. John Malkovich brings a certain offbeat flair to Lucien, but that's his trademark, and he has a lot more fun in another current outing, Red. Solid support comes from veterans Scott Glenn, Fred Dalton Thomas, Margo Martindale, and James Cromwell. The horse (actually several horses) is the real star, but you'd never know it. The movie doesn't do much to develop him into more than an icon-in-the-making. (Although I suppose there are limits with what one can do with a horse, of course, of course.)
Fans of horse racing will likely be less than impressed with this bland treatment of one of the greatest participants of the sport. The film may work best for those who have no idea who Secretariat is and, judging by the target audience's age, that may be a significant portion of those who see Secretariat. This is generic movie-making. There are enough high points to keep it from being discarded out-of-hand, but not sufficient consistency to warrant anything more than a reluctant and lukewarm recommendation.
---
Secretariat (United States, 2010)
Director:
Randall Wallace
Cast:
Diane Lane
,
Otto Thorwath
,
Dylan Baker
,
Dylan Walsh
,
Nestor Serrano
,
James Cromwell
,
Scott Glenn
,
Margon Martindale
,
John Malkovich
,
Nelsan Ellis
Screenplay:
Mike Rich, suggested by Secretariat: The Making of a Champion by William Nack
Cinematography:
Dean Semler
Music:
Nick Glennie-Smith
U.S. Distributor: Walt Disney Pictures
---
Three...better movies of this genre
worse movies of this genre
Three...better movies of Diane Lane
worse movies of Diane Lane
Three...better movies of Otto Thorwath
(There are no more better movies of Otto Thorwath)
worse movies of Otto Thorwath
(There are no more worst movies of Otto Thorwath)
Three...better movies of Dylan Baker
worse movies of Dylan Baker