Anchorman 2: The Legend Continues (United States, 2013)
December 18, 2013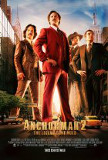 Anchorman 2: The Legend Continues could easily be called Anchorman 2: More of the Same. However, when it comes to comedy sequels, is there a reason to expect anything different? More importantly, is there a reason to want anything different? People will go to Anchorman 2 expecting to have the same kind of experience they had with the original Anchorman and, to an extent, the movie delivers. The problem is that nothing seems quite as fresh the second time around (or, if you want to count the direct-to-video Wake Up, Ron Burgundy, the third time). There's also an issue with running time. The first Anchorman was a lean, mean 94 minutes - just about the right length for a comedy of this sort. At two hours, Anchorman 2 overstays its welcome by at least 20 minutes, if not longer.
Anchorman 2 begins an unspecified time after the original Anchorman, although the gap has to be at least six or seven years. Ron Burgundy (Will Ferrell) and his wife, Veronica Corningstone (Christina Applegate), are the weekend husband-and-wife anchor team of a national news broadcast. When Ron is fired to pave the way for Veronica's promotion, their marriage goes under. After spending some time drunk and out-of-work, Ron is targeted by a group making the bold gamble of launching a 24-hour cable news channel. After assembling the old team - reporter Brian Fantana (Paul Rudd), sportscaster Champ Kind (David Koechner), and weatherman Brick Tamland (Steve Carrell) - Ron heads to New York City, where he uses a new approach to news to fire the ardor of station manager Linda Jackson (Meagan Good) and win a feud with hotshot anchor Jack Lime (James Marsden).
In my review of Anchorman, I wrote the following: "Although… heavily reliant upon sophomoric gags and innuendo, there is an underlying level of sophistication to what [Will] Ferrell does. Granted, no one would call this 'intellectual comedy,' but it's not as dumb as it first appears to be." That remains true of Anchorman 2, where there's plenty of clever material to go along with the outrageous, openly silly stuff. It's a little like mashing together Benny Hill and Monty Python. The PG-13 rating curtails the level of raunchiness permissible; one could see that there might be an R-rated version awaiting home video release.
The jokes are hit-and-miss, with a slightly less impressive batting average this time around. One of the deficiencies of Ferrell's brand of comedy is that it tends be either very funny or completely unfunny. This varies from bit-to-bit and it's evident throughout Anchorman 2. The movie offers a few big, laugh-out-loud moments but there are also stretches when some of the obvious failed gags are almost painful. Ferrell has drawn upon his likeability and Hollywood clout to assemble an impressive aggregate of cameo appearances (including, but not limited to Harrison Ford, Liam Neeson, Sacha Baron Cohen, Kirsten Dunst, Amy Poehler, and Tina Fey) but most of these come during a retread of a scene that worked better in Anchorman.
Ferrell and his three main co-stars effectively recapture their personalities from Anchorman. Christina Applegate and Fred Willard return as well, although both in reduced roles (especially in Willard's case). Newcomers include Kristen Wiig as Bret's girlfriend, Chani; Meagan Goode as Ron's sexually voracious boss; Greg Kinnear as Veronica's live-in lover (possibly with mysterious mind powers); and James Marsden as Anchorman 2's version of Wes Mantooth. (If you don't know who that is, then you fail the Anchorman pop quiz.) The movie's timeframe of the early 1980s is established in part by a nonstop barrage of era-appropriate pop songs, with Christopher Cross' "Ride Like the Wind" opening the movie and Olivia Newton John's "Xanadu" providing a memorable backdrop to a "hot" scene between Brick and Chani.
The original Anchorman was a respectable theatrical success, making an inflation-adjusted $109 million, but it achieved greater exposure on home video. Ferrell and co-writer/director Adam McKay, who created the characters in 2004, have often spoken about making a sequel but other projects kept this on the back-burner. Often, long gaps between installments of a series result in poor showings for the later entries, but Anchorman 2 may be able to buck the trend. Although set 33 years ago, many of its most pointed satirical jabs (such as one aimed at the evolution of cable news into "info-tainment") are relevant today. It's just a shame that the humor couldn't be more consistent and that the editors couldn't have been more aggressive with their scissors.
---
Anchorman 2: The Legend Continues (United States, 2013)
Director:
Adam McKay
Cast:
Will Ferrell
,
Greg Kinnear
,
James Marsden
,
Dylan Baker
,
Meagan Good
,
Christina Applegate
,
David Koechner
,
Steve Carrell
,
Paul Rudd
,
Kristen Wiig
Screenplay:
Will Ferrell & Adam McKay
Cinematography:
Oliver Wood
Music:
Andrew Feltenstein, John Nau
U.S. Distributor: Paramount Pictures
---
Three...better movies of this genre
worse movies of this genre
Three...better movies of Will Ferrell
worse movies of Will Ferrell
Three...better movies of Greg Kinnear
worse movies of Greg Kinnear
Three...better movies of James Marsden
worse movies of James Marsden