Unfinished Business (United States, 2015)
March 07, 2015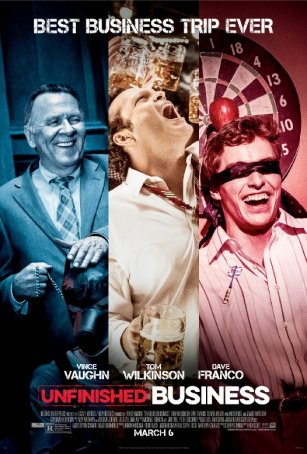 Unfinished Business is bad - not epically bad but bad enough. Little contained in this misfire of a film works and the few successful things are dragged out to the point where they die a lingering death. In fact, it's odd that this movie was accorded a major theatrical berth. It lacks a "big name" star (Vince Vaughn, although recognizable, has been slipping farther from the A-list with every release) and the pedigree of its director, Ken Scott (the lackluster Delivery Man, also with Vaughn), is questionable at best. Better movies end up with a direct ticket to VOD. I wish that had been the case with Unfinished Business, because then I would have 91 minutes of my life back.
One of the film's evident problems is that it suffers from an identity crisis. It doesn't know what it wants to be: a raunchy comedy about three guys let loose in Berlin during a big gay pride festival or a weepy drama about how parental neglect can result in troubled offspring. Unfinished Business' humor is low-key for this material except during a couple of scenes when it pushes the R-rating's unclear envelope with what the MPAA likes to call "graphic nudity." The movie is rarely funny - a lot of the jokes don't work or are extended beyond the point where they're amusing - but there are times when the lack of comedy is by design because the filmmakers mistakenly believe they are crafting a sweet, sincere drama. Unfortunately, the material so trite and obvious that even Lifetime would reject it. It's certainly possible for a comedy to make serious points but a little more honesty and considerably less artifice is required for such an endeavor to work. Unfinished Business takes the very serious business of high school and internet bullying and trivializes it by reducing it to a plot point and stepping stone to a happy ending. The production doesn't get one star only because of its infantile script and unremarkable performances but because it addresses this issue in such an objectionable manner.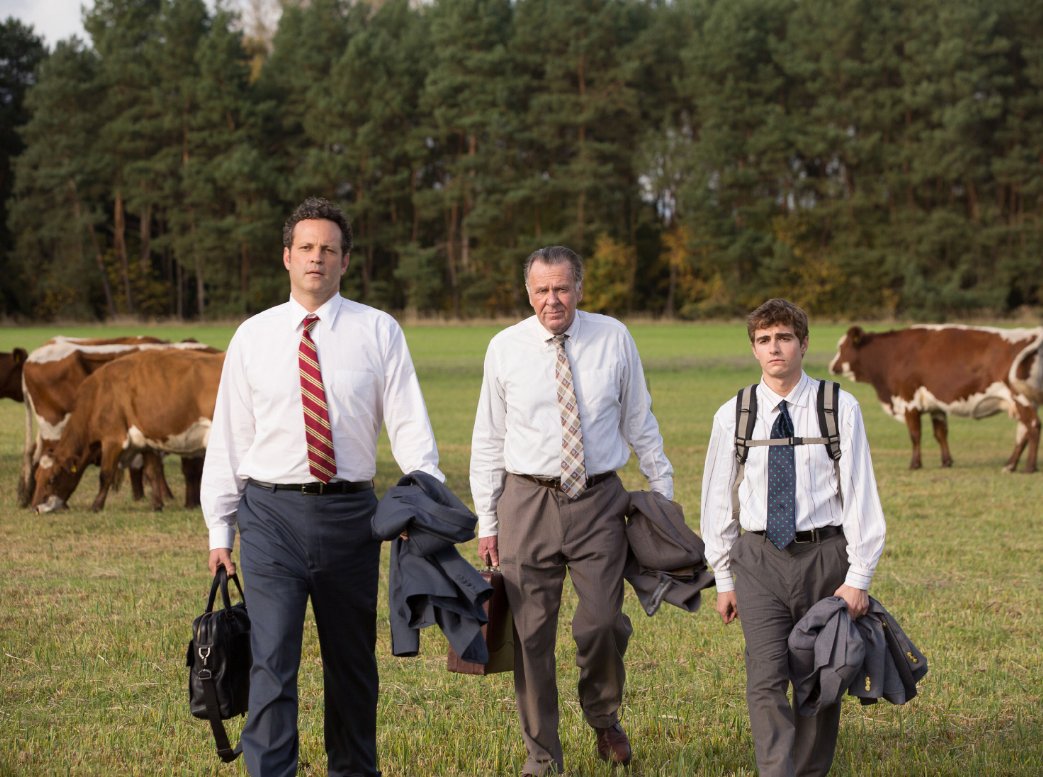 There's not much to the narrative. The only thing surprising about Unfinished Business is how little is surprising. A group of three ad men - ambitious Dan Trunkman (Vaughn); over-the-hill, unhappily married Tim McWinters (Tom Wilkinson); and mentally challenged (in a Brick Tamland way) youngster Mike Pancake (Dave Franco) - decide to form a start up and go head-to-head with Dan's previous employer, Chuck Portnoy (Sienna Miller), in securing a major contract with a firm headed by Brit Bill Whilmsley (Nick Frost) and Yankee Jim Spinch (James Marsden). This requires them to travel from their home base in St. Louis to Portland, Maine to Berlin. The end up in Germany in the midst of three big events: the G8, Oktoberfest, and a gay rights festival. Things happen involving naked women, gloryholes, a visit to a unisex sauna, and Facetime chats between Dan and his kids that reveal troubling signs.
Vince Vaughn is probably better than the material, but I find myself thinking that about a lot of his films, which have a distressing quality of sameness to them: flaccid dramas masquerading as "outrageous" comedies. Vaughn's most successful outings have been those in which he has curbed his sentimental tendencies. It's not that he can't be a capable dramatic actor given the right material, but Unfinished Business isn't right for anyone… certainly not an Oscar-caliber performer like Tom Wilkinson. Wilkinson appears to have been relegated to the "Betty White role" here except, while White garners chuckles for dropping an F-bomb, the same can't be said of Wilkinson. Dave Franco is annoying and seems stoned for the duration but I'm willing to blame that on the screenwriter and director.
It is often rightly argued that comedy is subjective - one person may laugh uncontrollably at something another finds tedious. Unfinished Business, however, may represent the rare case in which "bad comedy" crosses over from subjective to objective. No matter what a viewer's taste, it's hard to imagine anyone - even someone not offended by the treatment of bullied children and their oblivious parents - showing much enthusiasm for Unfinished Business. It's not awful enough to belong on an all-time "worst" list but it's a strong candidate for 2015's bottom-of-the-barrel roster.
---
Unfinished Business (United States, 2015)
---
Three...better movies of this genre
worse movies of this genre
Three...better movies of Tom Wilkinson
worse movies of Tom Wilkinson
Three...better movies of James Marsden
worse movies of James Marsden
Three...better movies of Vince Vaughn
worse movies of Vince Vaughn