Solitary Man (United States, 2009)
June 04, 2010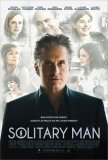 Gordon Gekko lives! But then we all know that - Oliver Stone and Michael Douglas have filmed a sequel to Wall Street that is currently sitting on shelves awaiting its late September 2010 release. However, Douglas gives us a preview of what an alternate universe Gekko might look like in Solitary Man, a character study from Brian Koppelman and David Levien, the writers of Oceans 13 and The Girlfriend Experience. Steven Soderbergh's fingerprints are all over this one, so it should come as no surprise that he's listed as a producer.
As recently as 15 years ago, Douglas was a bona fide A-list star - a member of Hollywood's elite on-screen and off. Films like Black Rain, Wall Street, and Basic Instinct cemented his place near the top of the Hollywood pyramid during the '80s and early '90s. But time marches on. It has been more than a decade since Douglas was box office gold. This drift from the spotlight has allowed him to exercise his acting chops in a series of smaller, less glitzy roles. Solitary Man is the latest and, arguably, the most intriguing of these. This also represents a reunion of sorts for Douglas and Danny DeVito, whose fingerprints were all over three of the actor's high profile '80s productions: Romancing the Stone, The Jewel of the Nile, and The War of the Roses. The only one missing here is Kathleen Turner.
Douglas plays Ben, the once proud owner of a car dealership empire who has fallen on hard times. When an investigation uncovered illegal practices in his business, Ben came down hard. Now, he's trying to rebuild his reputation to make another run at the big time, but his libido keeps getting in the way. Ben is one of those men who must proposition seemingly every woman he encounters and the repercussions of having sex with his girlfriend's teenage daughter, Allyson (Imogen Poots), put him in a bad position. There are, after all, some lines that shouldn't be crossed, and this is one of them. Soon, the number of people willing to stand up for Ben has dwindled to an alarmingly small club: his adult daughter (Jenna Fischer), his ex-wife (Susan Sarandon), an old friend (Danny DeVito), and a young geek (Jesse Eisenberg). But there is a reason for Ben's aberrant behavior - one he has been hiding from everyone.
Solitary Man develops in a non-sentimental manner, the narrative chronicling Ben's downward spiral. The film, however, is not maudlin. Ben may be a sad case but he retains a few shreds of self-respect and does what needs to be done to keep his head above water, if just barely (including working at a diner). There's also a fair amount of humor in the screenplay, although much of it is subtle and a little warped. The portrait of Ben painted by Douglas is that of a once-great man who has fallen on hard times as a result of his unquenchable appetites but, even in his twilight, he can't quite believe he won't make it to the top again. Solitary Man gives Douglas a chance to act, not merely posture or show off for the camera. It's some of the finest, least forced work he has done in years.
---
Solitary Man (United States, 2009)
---
Three...better movies of this genre
worse movies of this genre
Three...better movies of Michael Douglas
worse movies of Michael Douglas
Three...better movies of Susan Sarandon
worse movies of Susan Sarandon
Three...better movies of Danny DeVito
worse movies of Danny DeVito