Sting, The (United States, 1973)
July 09, 2019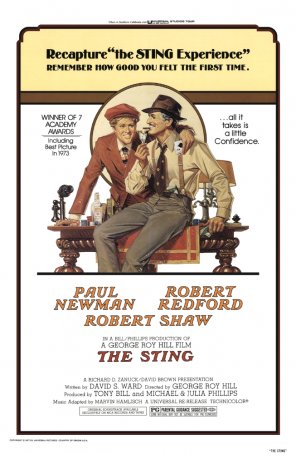 This review contains oblique spoilers. Since it's a con movie, even unspecific revelations could potentially spoil aspects of the viewing experience. Keep that in mind if you choose to read on…
Butch and Sundance ride again! Re-united with George Roy Hill, their director from the landmark 1969 film, actors Paul Newman and Robert Redford proved that their on-screen chemistry in Butch Cassidy and the Sundance Kid wasn't a one-off. Despite how well the duo was received in The Sting, this would prove to be their final collaboration (even though Newman would continue working for another 29 years). Attempts to re-team them over the years never came to fruition.
The Sting adopts the playful, quasi-comedic tone evident throughout much of Butch Cassidy. On the whole, however, this is a more upbeat endeavor – an exploration of a long con devised and executed by two Depression-era grifters, Henry Gondorff (Newman) and Johnny Hooker (Robert Redford), and a team assembled by the former. Their mark, Doyle Lonnegan, is played by Robert Shaw at his snarling best. The Sting represents one of three roles for which Shaw remains known long after his untimely death (the other two being From Russia with Love and, of course, Jaws).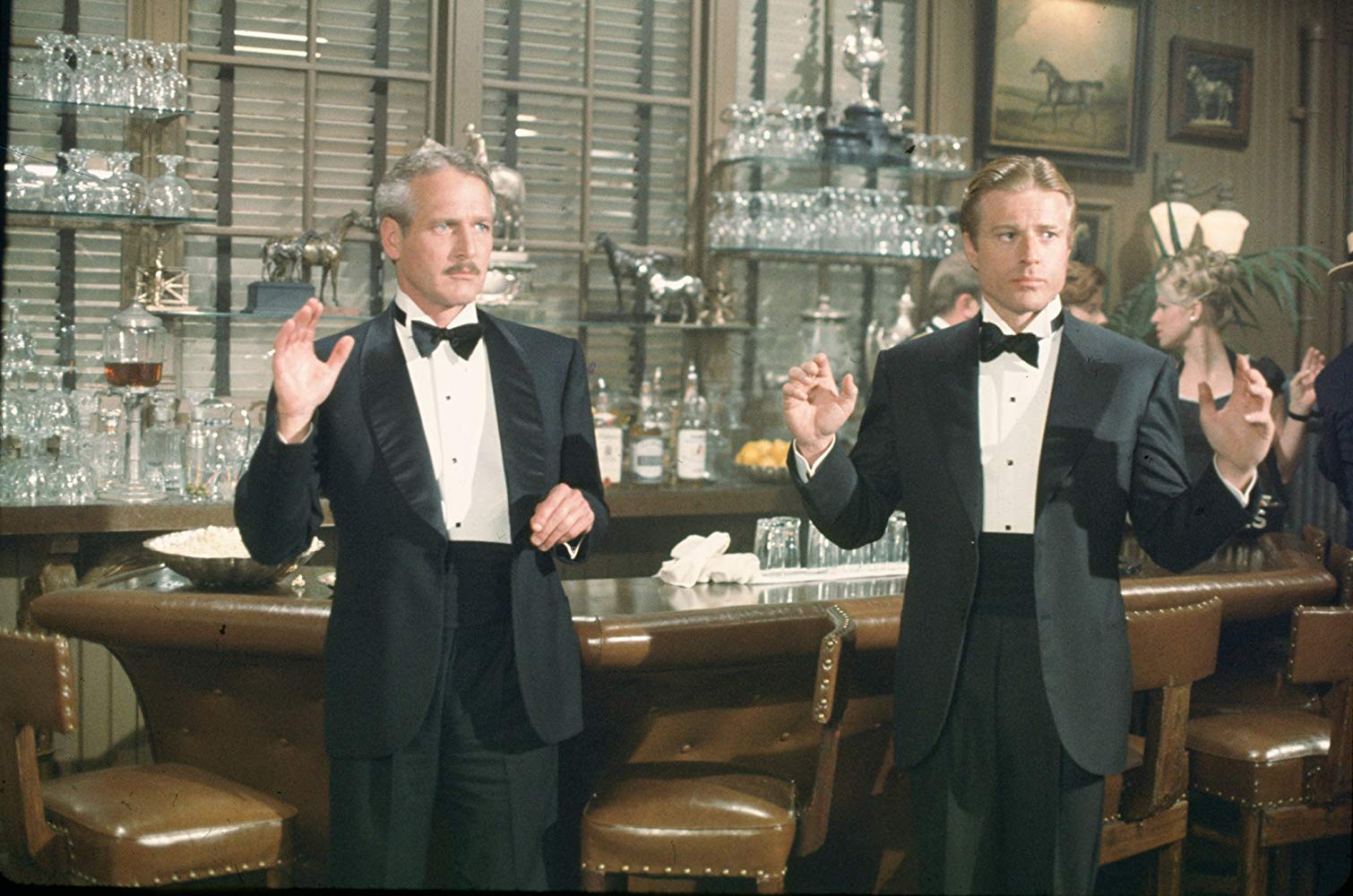 In developing The Sting, Hill determined that he wanted the movie not only to be set in 1936 but to have the same feel as a movie crafted during that era. To that end, he used the "old style" Universal logo, instructed his costume and set designers to copy '30s movie templates for their work, and employed title cards that mimicked the look of Saturday Evening Post illustrations. For the musical score, he anachronistically relied on the jazz piano rags of Scott Joplin (arranged by Marvin Hamlisch, who also provided two new compositions). Although Joplin wrote the material used in The Sting during the early years of the 20th century, Hill believed it accomplished the goal of giving the film an old-time, upbeat flavor. No stranger to odd musical choices ("Raindrops Keep Falling on My Head" in Butch Cassidy), Hill was willing to go in an unconventional direction. It proved to be a successful choice – not only was the score one of the most remarked-upon aspects of The Sting but it contributed to a 1970s resurgence in Joplin's popularity.

Although aspects of The Sting were based on the exploits of several real-life grifters, this is a very Hollywood type of con movie, complete with a big twist at the end. The last-act surprise is so smoothly incorporated into the screenplay that even those who are expecting something may be unprepared for what actually happens. Contemporaneous audiences were heard to gasp and cheer at the film's last-minute revelations. (Although I won't reveal specifics here, acknowledging the existence of a twist could be considered a spoiler in its own rights.)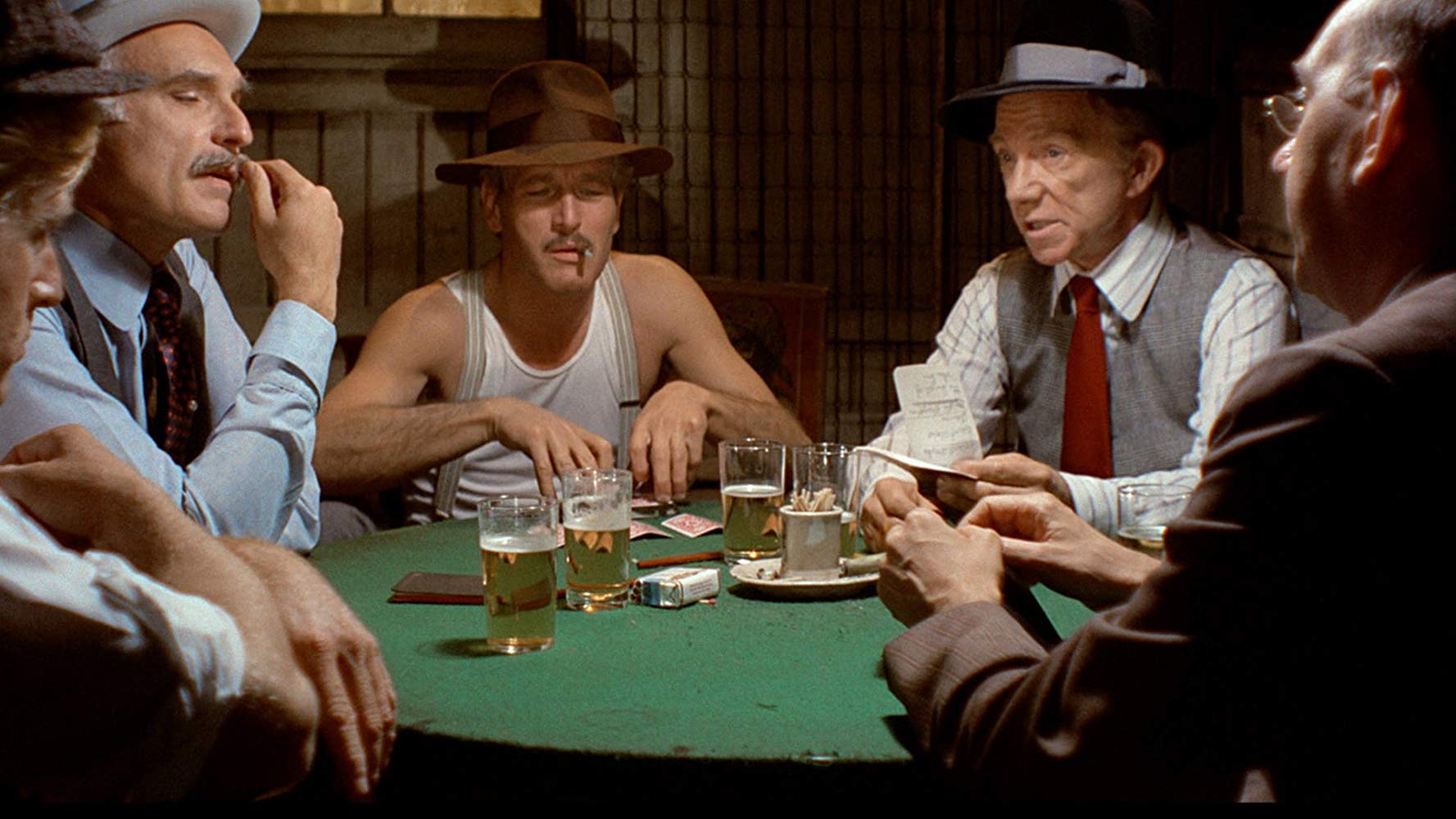 The Sting opens by introducing low-level grifters Johnny Hooker (Redford) and his partner, Luther Coleman (Robert Earl Jones, James Earl Jones' father), who operate their cons out of Joliette, Illinois. When misfortune makes a numbers runner one of their victims, they appear to strike it rich – until the boss of the organization, Lonnegan, hits back hard. Hooker slips through Lonnegan's fingers but Luther isn't as lucky. Hooker leaves Joliette for Chicago, pursued not only by a pair of Lonnegan's thugs but by corrupt cop Snyder (Charles Durning). In Chicago, Hooker looks up a "contact" provided to him by Coleman before the latter's death. The man, a one-time "big" con artist named Henry Gondorff (Newman), is intrigued by Hooker's proposal of getting Lonnegan and sets out to determine how it can be done.

The majority of the film focuses on the mechanics of the con, which is based on an outdated setup called "The Wire." Gondroff recruits a number of the best men in and around Chicago and sets up a fake off-track betting parlor. He then poses as a Chicago bookie and buys his way into a poker game in which Lonnegan is playing. Gondroff "out-cheats" Lonnegan to win the game, thereby creating animosity. The gangster is ripe for the picking when Hooker, pretending to be a disaffected employee of Gondroff's, approaches him with a too-good-to-pass-up deal. The hook is baited but there's still a contract on Hooker's life and the FBI wants to bring down Gondroff.

Like many of the best heist/con movies, The Sting boasts a strong screenplay anchored by a light tone and a breezy pace. The film doesn't get too bogged down in details but there's enough uncertainty about who's double-crossing whom to build some degree of tension. Newman and Redford's chemistry is as strong (if not stronger) than in Butch Cassidy. The period detail is impeccable. It's hard to believe this was made 40 years after the period in which it's set. The decision to use Joplin's tunes (especially "The Entertainer," which was colloquially known as "The Theme from The Sting" in 1974) was a stroke of brilliance. The Sting wouldn't have had the same flavor without that music.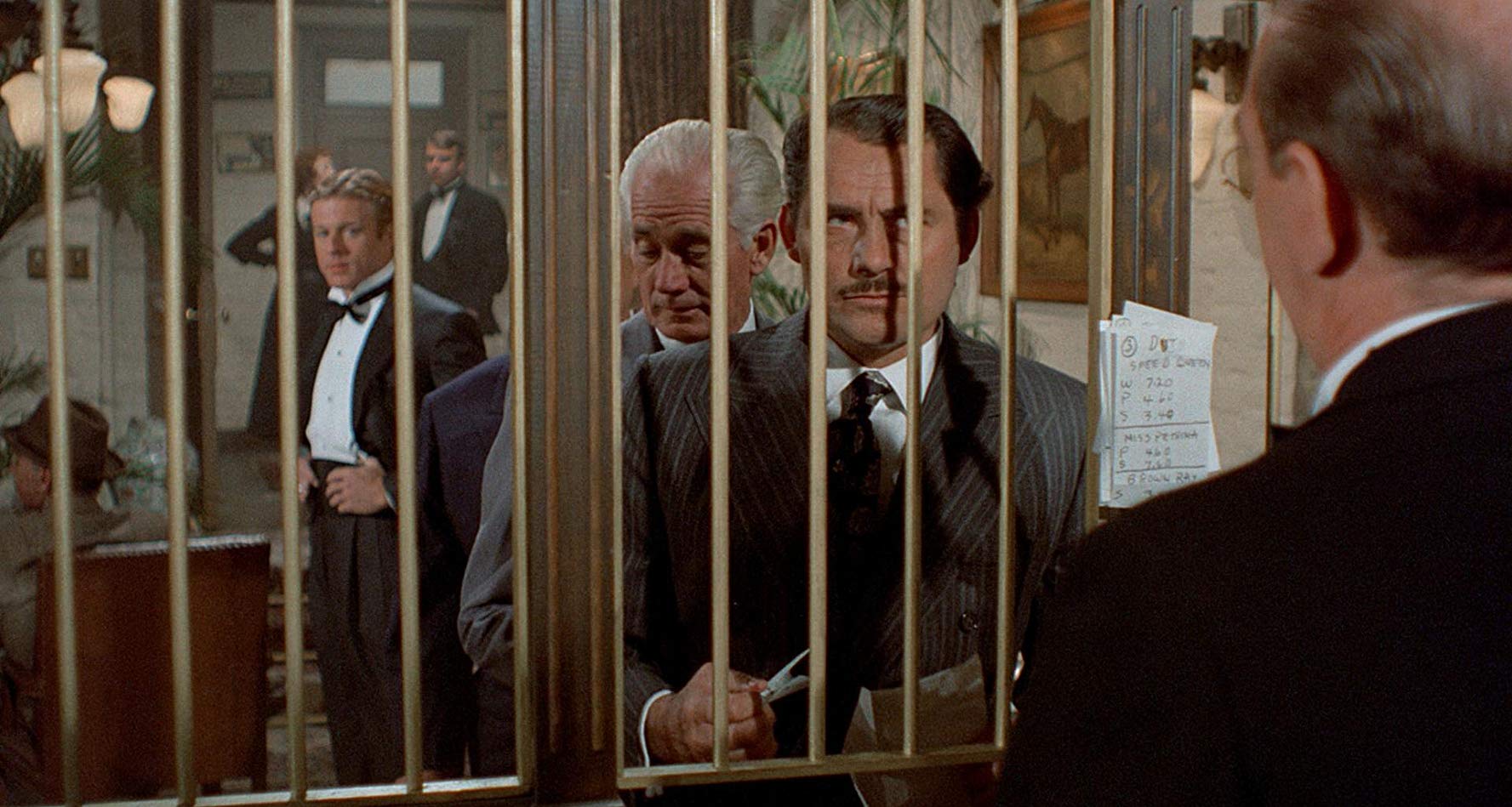 The Sting was a major player during the 1974 Oscars ceremony. Not only did it win Best Picture, but it captured another six awards, including a Best Director for Hill (his only win and second nomination – the other being for Butch Cassidy) and Best Music (for Marvin Hamlisch). Redford was nominated in the Best Actor category (Newman, however, was passed over). He didn't win and this marked the only time in his long and storied career that he received an acting nomination. (His two other nominations and lone win were in the Director category.)

In many heist movies, we end up rooting for the criminals, and The Sting is no exception. The film gets around any moral qualms by making Gondroff and Hooker's mark a really bad guy. Lonnegan has no redeeming qualities so we're relieved of any pangs of conscience for hoping he gets fleeced. Likewise, the film's bastion of law & order, Snyder, is as reprehensible as they come. The grifters are presented as upstanding men with a code of honor who make their money by preying on the greed of others. All of this contributes to the upbeat feeling delivered by the crowd-pleasing resolution. The Sting represents one of the most popular, widely-loved films to win Best Picture in the last half-century and an example of grand entertainment. (Its sequel, however, made in 1983 with none of the original participants returning, is best ignored as the ignoble failure it is.)
---
Sting, The (United States, 1973)
---

Three...better movies of this genre
worse movies of this genre
Three...better movies of Paul Newman
worse movies of Paul Newman
(There are no more worst movies of Paul Newman)
Three...better movies of Robert Redford
worse movies of Robert Redford
Three...better movies of Robert Shaw
worse movies of Robert Shaw
(There are no more worst movies of Robert Shaw)