Summerland (United Kingdom, 2020)
July 31, 2020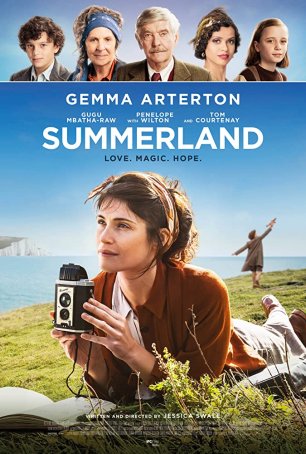 Summerland, the directorial debut of playwright Jessica Swale, tells the familiar story of the spinster who has an unwanted ward thrust upon her and, despite initially resenting him, comes to care for him. Swale's screenplay deflects some criticisms aimed at its predictable narrative structure by incorporating a twist but the movie never strays too far from the expected trajectory. It doesn't take a genius to guess how the relationship between Gemma Arterton's Alice and Lucas Bond's Frank is going to end up.  For what it is, Summerland is solidly made, but don't expect anything extraordinary from the production.
The movie opens in the 1970s with septuagenarian author Alice Lamb (played in the framing scenes by Penelope Wilton) reflecting back on her early life as she puts the finishing touches on a memoir. Trigger flashbacks and flashbacks-within-flashbacks. In 1940, Alice (Gemma Arterton) is asked to care for Frank (Lucas Bond), a school-age refugee from London. His father is a pilot for the RAF and his mother works for the government. Alice is unhappy about Frank's arrival since she believes she wasn't consulted about billeting a child and Frank's presence will interfere with the thesis she's writing (about the science behind fables). While working on her draft and coping with the needs of another presence in her house, Alice reminisces about her love affair with Vera (Gugu Mbatha-Raw) from back in the '20s when she was at university. The film eventually connects the '20s scenes with those in 1940 and finds a way to tie them all together in the '70s.

Alice is a staple character – the aging woman who, disappointed in love, has thrown herself into her work and desires no companionship. When presented in either literature or film, the stereotype is normally older but Arterton has no trouble capturing the antisocial vibe associated with Alice. (This is the second time the actress has taken on the role of a defender of the homefront during World War II – the other instance being Lone Scherfig's superior Their Finest.) Frank is a good-natured survivor who clings to memories of his parents while gritting his teeth and baring what life throws at him, like being forced to spend some time with the least-liked woman in a rural seaside hamlet.

The relationship between Alice and Frank is at times forced – more a result of the screenplay's requirements than because of an organic sense of mutual affection. Better defined (although less fully developed) is the lesbian romance between Alice and Vera. However, the movie could be charged with treating such a taboo relationship (not only same-sex but interracial) with less overt hostility than would have been the case in such an insular community. Homosexuality in the U.K. was not tolerated during the early decades of the 20th century – The Imitation Game gives a harder-hitting and arguably more honest portrayal. Summerland doesn't entirely ignore the difficulties presented by the situation – Vera remarks that, in order to be a mother, she has to marry a man, and Alice is shunned by those in the village (although mostly for her misanthropic inclinations and hermit-like lifestyle).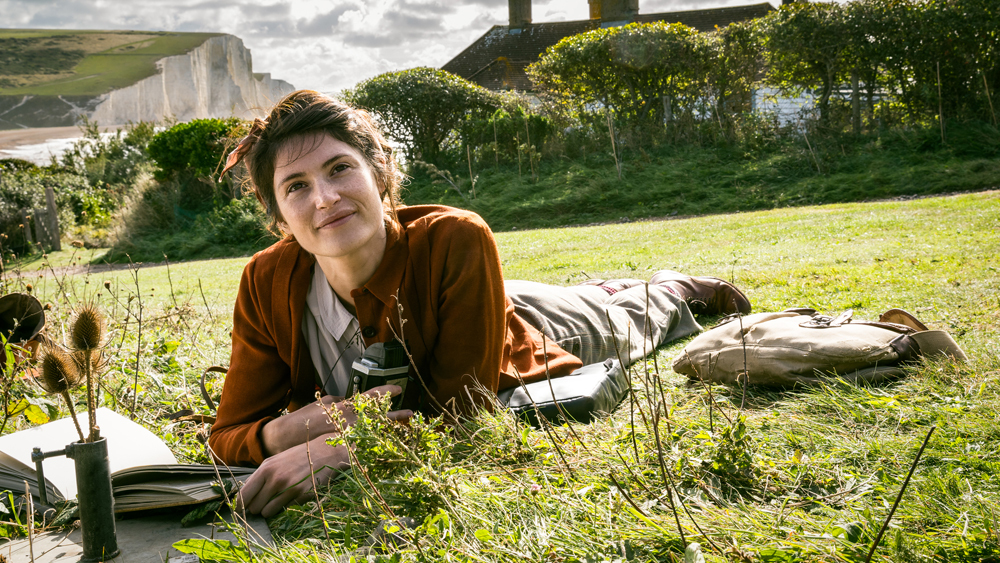 The film's title, Summerland, refers to the "heaven" of certain mythologies – an invisible spiritual reality that exists in conjunction with the physical world. When someone dies, they can communicate with their loved ones by creating images in the clouds. For non-believer Alice, there's a scientific reason for this (it has to do with refracted sunlight creating a mirage) but Frank believes there's more to it than that. The screenplay, however, is muddled about explaining Summerland and the metaphor is heavy-handed.

The narrative offers a third-act twist that I'll admit to not having detected before its revelation. And, although it might seem too coincidental and convenient, Swale gamely attempts to graft onto it a veneer of plausibility. Overall, Summerland feels safe and comfortable – a non-confrontational movie about love in various forms. Solid performances by Gemma Arterton and an underused Gugu Mbatha-Raw (both of whom worked with Swale on stage) enliven the screenplay, resulting in a production that will find a stronger appeal among the Masterpiece Theater/art-house crowd than those in search of something less conventional.
---
Summerland (United Kingdom, 2020)
---

Three...better movies of this genre
worse movies of this genre
Three...better movies of Gemma Arterton
worse movies of Gemma Arterton
Three...better movies of Gugu Mbatha-Raw
worse movies of Gugu Mbatha-Raw
(There are no more worst movies of Gugu Mbatha-Raw)
Three...better movies of Tom Courtenay
(There are no more better movies of Tom Courtenay)
worse movies of Tom Courtenay
(There are no more worst movies of Tom Courtenay)