What's Up Doc? (United States, 1972)
August 14, 2018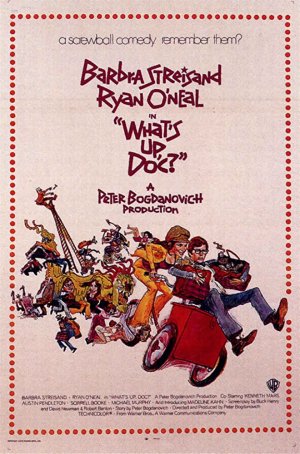 Until recently re-watching it, I had forgotten how funny What's Up Doc? is. The combination of Peter Bogdanovich's pacing, Buck Henry's humor, and the actors' comedic timing makes for one of the funniest outings of the 1970s. Moreover, unlike many of its contemporaries (such as 1980's Airplane!), it has stood the test of time. Viewed more than forty years after its production, the film is just as fresh and side-splitting today as it was when it entered theaters during a much different era.
For Bogdanovich, the protégé of Orson Welles, What's Up Doc? represented the second of the three movies for which film history remembers him. He broke through with 1971's masterful The Last Picture Show. This was followed by What's Up Doc? and Paper Moon. Then, with more than a little help from the beautiful but monumentally untalented Cybill Shepherd (with whom he was romantically involved), Bogdanovich subsequently crashed and burned, turning out a pair of critically-reviled box office duds: Daisy Miller (argued by some critics to be among the worst films ever made) and At Long Last Love. Although Bogdanovich has continued to work over the years, he never recovered from what happened to his career during the mid- and late-1970s (not to mention the personal tragedy of lover Dorothy Stratton's 1980 murder).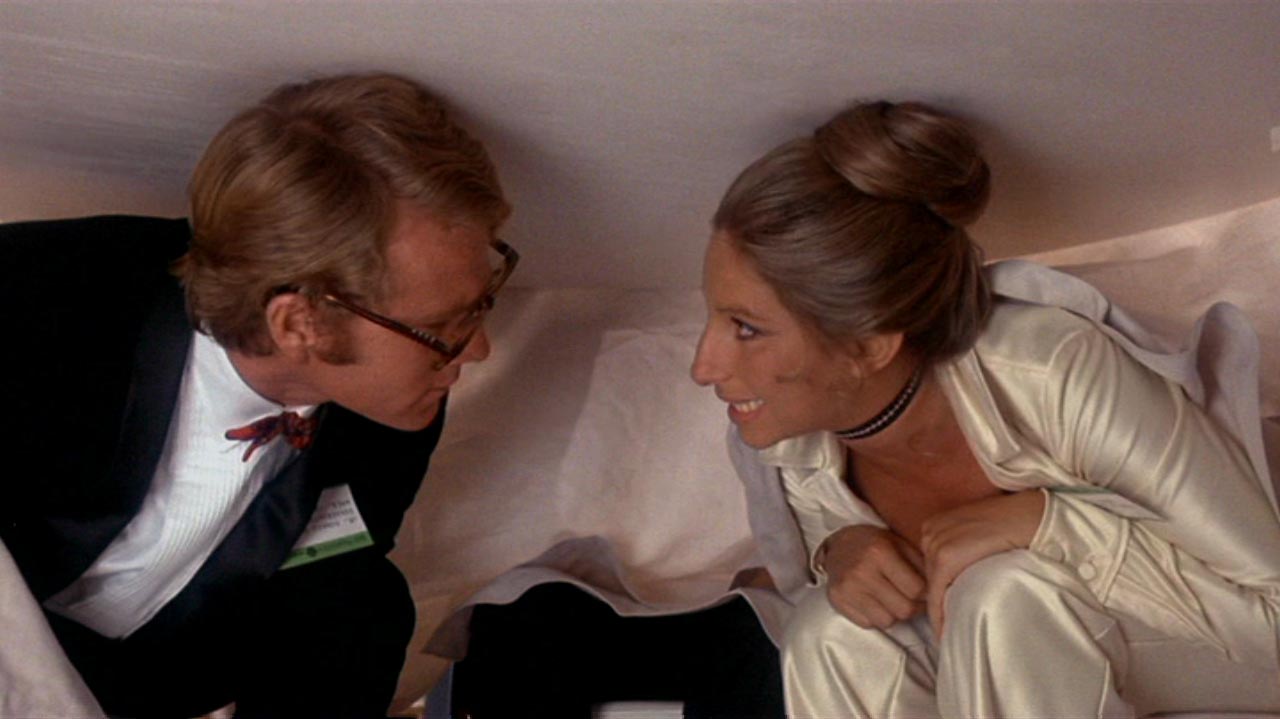 Like the undeservedly ignored Noises Off! (which Bogdanovich adapted from the successful stage play in 1992), What's Up Doc? shows the director's gift for pure comedy. As was often the case, Bogdanovich turns back the clock, in this case drawing inspiration from the classic screwball comedy Bringing Up Baby. Despite being made in the early 1970s, What's Up Doc? imitates something from an earlier decade. The "retro" feel is one reason why the movie works as well today as it did upon its release. Nothing in the film ties it to the decade of its creation. By contrast, the aforementioned Airplane!, one of the most heralded comedies of the late 1970s/early 1980s, is at times painfully unfunny today because its humor doesn't translate.
The film's slapstick-infused blend of wit and farce isn't the only quality that recalls Hollywood's Golden Age. Bogandovich makes extensive use of Cole Porter tunes, with Barbra Streisand singing "You're the Top." Three other songs, "Anything Goes", "Night & Day" and "I Get a Kick Out of You", are used in the background (as elevator music). The actors, meanwhile, take their cues from the likes of Cary Grant, Carole Lombard, Harold Lloyd, and The Marx Brothers.
The plot device that underpins the story has four characters coming to San Francisco carrying identical plaid travelling cases. They are Judy Maxwell (Barbra Streisand), the overconfident, fast-talking young woman whose luggage is filled with nick-knacks and unmentionables; musicologist Howard Bannister (Ryan O'Neal), who is carrying rocks; Mr. Smith (Michael Murphy), who has filled his case with documents marked "Top Secret"; and Mrs. Van Hoskins (Mabel Albertson), who is transporting a fortune in jewelry.
In true screwball fashion, the cases become confused as various nefarious types move them around, steal the wrong ones, and create chaos. Judy enters Howard's ordered life and, in her force-of-nature fashion, turns everything upside down. In addition to impersonating his fiancée, Eunice (Madeline Kahn), she eventually reveals an intimate connection to a prominent San Francisco judge (Liam Dunn).
It would take a scorecard to keep track of the location of each case within the series of interconnected hotel rooms where most of the action takes place.
Quotable lines abound. My personal favorite comes during an exchange between Harold and Eunice.
Eunice: "I'm not looking for romance, Howard."
Howard: "Oh?"
Eunice: "No, I'm looking for something more important than that, something stronger. As the years go by, romance fades and something else takes it place. Do you know what that is?"
Howard: "Senility?"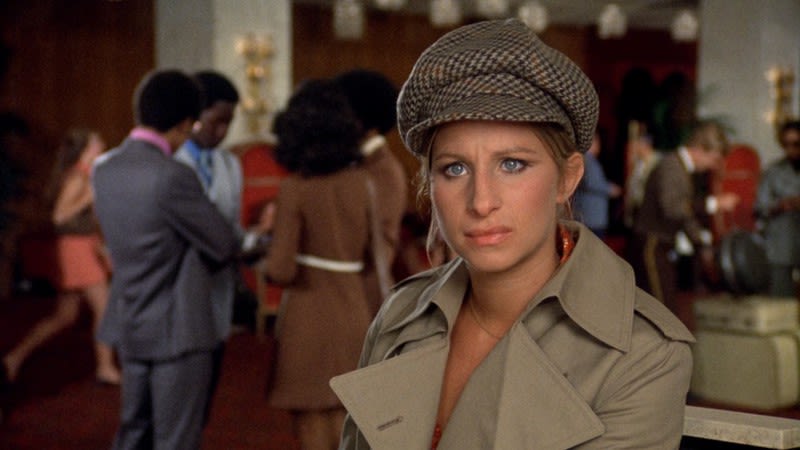 As important as What's Up Doc? was to Bogdanovich's career, it was no less important to the evolution of Ryan O'Neal as a matinee idol. With one successful film under his belt (1970's Love Story), O'Neal used What's Up Doc? as a stepping-stone to a decade of box office profitability. Wearing Clark Kent glasses to hide his good looks (not that anyone was fooled), O'Neal is endearing as the socially awkward, bumbling nerd who is targeted romantically by Barbara Streisand. Streisand, the film's biggest "name" (in addition to being a major recording figure, she was a proven movie star – not to mention Oscar-winner), adapts brilliantly to this sort of comedy and shares strong chemistry with O'Neal. (The two would be paired for another screwball comedy, The Main Event, in 1979.) The supporting cast reads like a roster of comedically-endowed character actors: Kenneth Mars, Austin Pendleton, Liam Dunn, John Hillerman, and Randy Quaid. Madeline Kahn, who would go on to greater fame working for Mel Brooks, makes her debut here.
One thing I have always admired about comedian John Cleese is his gift for comedic momentum. The average episode of his signature TV series, "Fawlty Towers," starts out sedately with a few minor chuckles but, by the time the show approaches the end credits, it has turned into a proverbial "laugh riot." This quality applies to What's Up, Doc? The film builds on itself, gaining speed as it careens out-of-control toward its conclusion. Only a director in complete control can fashion something so effortlessly chaotic. What's Up Doc? is one of the signature comedies of the 1970s whose throwback mixture of madcap hijinks and rat-a-tat-tat dialogue still works for a generation twice removed from its influences.
---
What's Up Doc? (United States, 1972)
Director:
Peter Bogdanovich
Cast:
Barbara Streisand
,
Mabel Albertson
,
Michael Murphy
,
John Hillerman
,
Liam Dunn
,
Austin Pendleton
,
Kenneth Mars
,
Madeline Kahn
,
Ryan O'Neal
,
Randy Quaid
Home Release Date: 2018-08-14
Screenplay:
Buck Henry and David Newman & Robert Benton, based on a story by Peter Bogdanovich
Cinematography:
Laszlo Kovacs
Music:
Artie Butler
U.S. Distributor: Warner Brothers
---

Three...better movies of this genre
worse movies of this genre
Three...better movies of Barbara Streisand
(There are no more better movies of Barbara Streisand)
worse movies of Barbara Streisand
(There are no more worst movies of Barbara Streisand)
Three...better movies of Mabel Albertson
(There are no more better movies of Mabel Albertson)
worse movies of Mabel Albertson
(There are no more worst movies of Mabel Albertson)
Three...better movies of Michael Murphy
worse movies of Michael Murphy
(There are no more worst movies of Michael Murphy)