Movies starring Randy Quaid Brokeback Mountain
Longing is such a potent element of the human experience that it has formed the fabric of numerous stirring motion pictures. Brokeback Mountain is one such movie - a tale of love and loss, of unrealized dreams, and of lives wasted by denying passi... Goya's Ghosts
Though it has been said that "No one expects the Spanish Inquisition," the reality of the matter was that for centuries, life in Spain was lived on the edge of a knife, where one wrong word or action could bring an innocent victim before an ecclesi... Hard Rain
All through its production and into the early days of its initial, aborted pre-release publicity, Hard Rain bore the appropriate moniker of The Flood. Ultimately, however, Paramount Pictures, nervous that this movie would be confused with 1996's o... Ice Harvest, The
There are those, including the distributor, who would like audiences to believe that The Ice Harvest is a comedy. At first glance, that's not so hard to accept. After all, director Harold Ramis was one of the Ghostbusters co-writers and scored a ... Kingpin
Movies have always used the "from the makers of..." line. You know, "a new film from the makers of Lawrence of Arabia" or "a new film from the makers of Glory". Kingpin employs this time-honored tradition, except, in this case, it proudly cla... National Lampoon's Christmas Vacation
Guilty pleasure (n): a film that a critic shamefacedly admits to liking even though the prevailing opinion, as put forth by serious members of the profession, is that the movie is a piece of crap. Christmas Vacation is considered by many film ...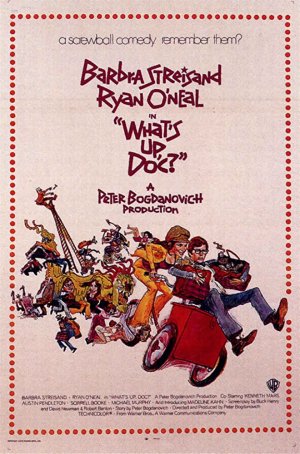 What's Up Doc?
Until recently re-watching it, I had forgotten how funny What's Up Doc? is. The combination of Peter Bogdanovich's pacing, Buck Henry's humor, and the actors' comedic timing makes for one of the funniest outings of the 1970s. Moreover, ...