Movies directed by Harold Ramis Analyze That
Analyze That delivers its share of amusing moments, but, when it comes to inventive or inspired comedy, it is lacking. The movie is funnier than a lot of what's available in multiplexes, but that's more a condemnation of the sad state of big scree... Analyze This
The greatest asset evidenced by Harold Ramis' gangster comedy, Analyze This, is that it doesn't try too hard for laughs. Instead of force-feeding audiences stale, predictable jokes about mobsters and mayhem, Ramis is content to let the humor evolv... Groundhog Day
The date is February 2 and the place is Punxsutawney, Pennsylvania. Pittsburgh weatherman Phil Connors (Bill Murray), on hand to cover the Groundhog Day ceremony, is having one of the most unpleasant experiences of his life. It's one of th... Ice Harvest, The
There are those, including the distributor, who would like audiences to believe that The Ice Harvest is a comedy. At first glance, that's not so hard to accept. After all, director Harold Ramis was one of the Ghostbusters co-writers and scored a ...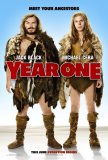 Year One
Two weeks ago, I wrote that, while watching Land of the Lost, I felt a sense of depression. That feeling revisited me during Year One, an inexplicably unfunny comedy made by two people who have proven they can do much better: director/co-writer Ha...