Movies directed by Milos Forman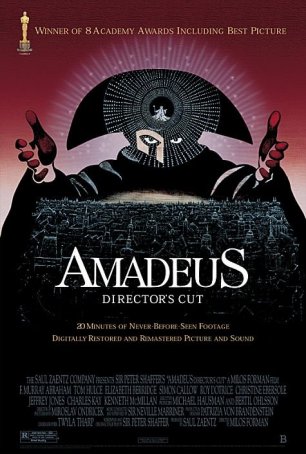 Amadeus
Most movies about artists (painters, composers, authors, etc.) tend to be dull and uninspired, rendering the subject of the film far less interesting than his or her work. Amadeus is an exception. In fact, it is arguably the best motion picture e... Goya's Ghosts
Though it has been said that "No one expects the Spanish Inquisition," the reality of the matter was that for centuries, life in Spain was lived on the edge of a knife, where one wrong word or action could bring an innocent victim before an ecclesi... Man on the Moon
Without a doubt, a reaction to comedy is one of the most subjective forms of human expression. What one person finds hilarious, another may view as tedious. For every person who sits through Dumb and Dumber stone-faced and unamused, another will ... One Flew Over the Cuckoo's Nest
Arguably, some of the issues addressed by One Flew Over the Cuckoo's Nest are not as relevant in 2006 as they were in the mid-1970s, but that realization in no way diminishes the film's dramatic impact. This was the second English language film fo... People vs. Larry Flynt, The
Larry Flynt, the self-proclaimed king of smut, as an American hero? Unlikely as it may seem, that's the scenario set up and successfully pursued by Milos Forman's (One Flew Over the Cuckoos Nest, Amadeus) latest venture, The People vs. Larry Flynt...