Woman in Black, The (United Kingdom, 2012)
February 04, 2012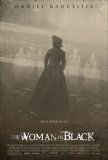 The Woman in Black is as traditional a ghost story as is likely to be found in today's marketplace. All the elements are in place: an isolated, gothic mansion on the moors, mysterious deaths, a graveyard, an apparition in black whose appearances coincide with tragedies, frightened villagers, and long-buried secrets. All of this takes place in Victorian England, where superstition often trumps reason. There are also no postmodern aspects to this tale. The house is haunted; it's not potentially all in the mind of the protagonist. There are ghosts and, quite often, they are unfriendly.
The title (taken from Susan Hill's novel) evokes Wilkie Collins' The Woman in White but, in this case, the elusive figure in the mists is garbed in black. Some story elements echo Dracula. Director James Watkins wrings maximum atmosphere from his sets; The Woman in Black oozes creepiness and some of the scares pack more punch than the typical "boo!" moments. During one lengthy sequence in which Daniel Radcliffe's character executes a meticulous search of the haunted mansion by candlelight, there's a repetitive cycle in which the sense of dread builds to an almost unbearable level only to be released by a shock before the whole thing starts over again.
Radcliffe plays Arthur Kipps, a London-based solicitor with a four-year old son whose career has been in a tailspin since the death of his wife in childbirth. His firm has given him a last chance - travel to the out-of-the-way estate of the late Mrs. Alice Drablow, Eel Marsh House, and settle her affairs. In the town of Crythin Gifford, Arthur is met with naked hostility by the residents and pleas for him not to travel the lonely road to the house. Among the locals, only the progressive couple of Sam and Elizabeth Daily (Ciaran Hinds and Janet McTeer) greet Arthur with warmth and offer help. Upon arriving at Eel Marsh House, Arthur's beliefs in what is possible are challenged as a series of unnatural occurrences plagues him - whispers in the dark, a rocking chair that moves without prompting, music boxes that play without being wound, and the mysterious Woman in Black who appears as a harbinger of doom.
From a marketing standpoint, the casting of Daniel Radcliffe is a coup; it has elevated the profile of what might otherwise be an obscure release to that of a potential mainstream hit. However, in some ways, Radcliffe seems ill-suited for the part. He appears too young and his dramatic chops, despite having been honed during a decade growing up as Harry Potter, are questionable. His screen presence is less imposing than that of his co-stars, Ciaran Hinds and Janet McTeer, both of whom command the camera's attention while on-screen. Hinds is working on his second ghost story in a few years (the previous one being The Eclipse - no relationship to the film about sparkling vampires). His brooding persona is perfect for this sort of production - he exudes the confidence and reliability that provides viewers with an anchor. As for Radcliffe, he does a workmanlike job conveying world-weariness, even if the mood is in contrast with his youthful appearance. However, this is not a character-based piece. The star's job description is that he be able to react convincingly to a variety of supernatural events and to endure being covered in mud. He has difficulty with neither.
The film ends on a note that could best be described as "bittersweet." It certainly isn't a conventional happy ending, yet it offers more lightness and hope than the previous 90 minutes. In short, it's the perfect way to conclude the movie, even if it makes most of what precedes it feel a little irrelevant. There's a definite sense of closure and, even though there's a little bit of a twist, it's hard to imagine even the most inattentive viewer not "getting it." Watkins stacks the deck by tinkering with the look of the film during its waning moments.
This is the second feature for the director, who made his debut with 2008's Eden Lake, a horror movie starring Michael Fassbender and Kelly Reilly. The genre holds an obvious fascination for Watkins, which is welcome, since he's excellent at bringing it to the screen. This is one of the creepiest PG-13 movies I have recently seen. The production company is Hammer Films, a venerable name in British horror. Responsible for some of the best monster movies of the '50s and '60s, when Peter Cushing and Christopher Lee were a favorite team, Hammer has endured over the years. Now, as then, the Hammer name is an assurance that terror, not soulless special effects, lies at the heart of the production. The Woman in Black bears this out.
---
Woman in Black, The (United Kingdom, 2012)
Run Time: 1:35
U.S. Release Date: 2012-02-03
MPAA Rating:
"PG-13" (Violence)
Genre:
HORROR
Subtitles: none
Theatrical Aspect Ratio: 2.35:1
---
Three...better movies of this genre
worse movies of this genre
Three...better movies of Daniel Radcliffe
worse movies of Daniel Radcliffe
Three...better movies of Ciaran Hinds
worse movies of Ciaran Hinds
Three...better movies of Janet McTeer
(There are no more better movies of Janet McTeer)
worse movies of Janet McTeer
(There are no more worst movies of Janet McTeer)