Menu, The (United States, 2022)
November 16, 2022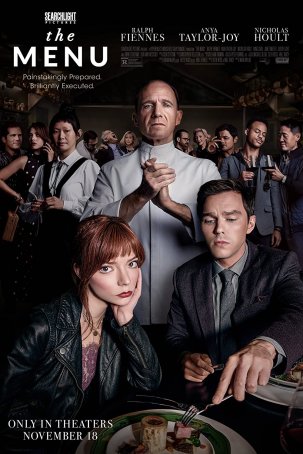 Perhaps the thing that makes The Menu so delicious is the taste that accompanies watching the ultra-rich get trussed up and stuffed like Thanksgiving turkeys. A dark satire that skewers privilege and eviscerates the famous, the wealthy, and professional critics (gulp), this film from prolific TV director Mark Mylod takes no prisoners. Although the focus is on (not surprisingly) the menu offered up by famed Chef Slowik (Ralph Fiennes at his most unhinged), this is no Babette's Feast. There's something about torture, bloodletting, and the potential for mass murder that dampens the appetite. Plus, the dishes served to the small group of a dozen diners don't look all that appealing to begin with.
This isn't the only movie of its sort exposing the venality and self-absorption of the 1%. It makes a perfect companion piece to Ruben Ostlund's Triangle of Sadness. Both films have similar goals and use twisted, Monty Python-inspired comedy to get the point across. The Menu comes with more star power than Triangle of Sadness. Although the latter boasts a sloshed Woody Harrelson, this one gives us established actors Ralph Fiennes, John Leguizamo, and Jane McTeer to go along with Nicholas Hoult and white-hot Anya Taylor-Joy. Sporting red hair and an intensity to match, Taylor-Joy goes toe-to-toe with Fiennes and never seems out of her depth. Their scenes together are some of the best moments The Menu has to offer.
The movie plays a little like an offbeat horror film without the horror vibe. One almost roots for the disillusioned and seemingly homicidal chef because most of his diners (with the exception of Taylor-Joy's Margot) are so repugnant that watching them suffer seems like a good way to spend an hour and a half. Slowik is sympathetic because he embodies the average viewer's disdain for the entitlement that suffuses the room.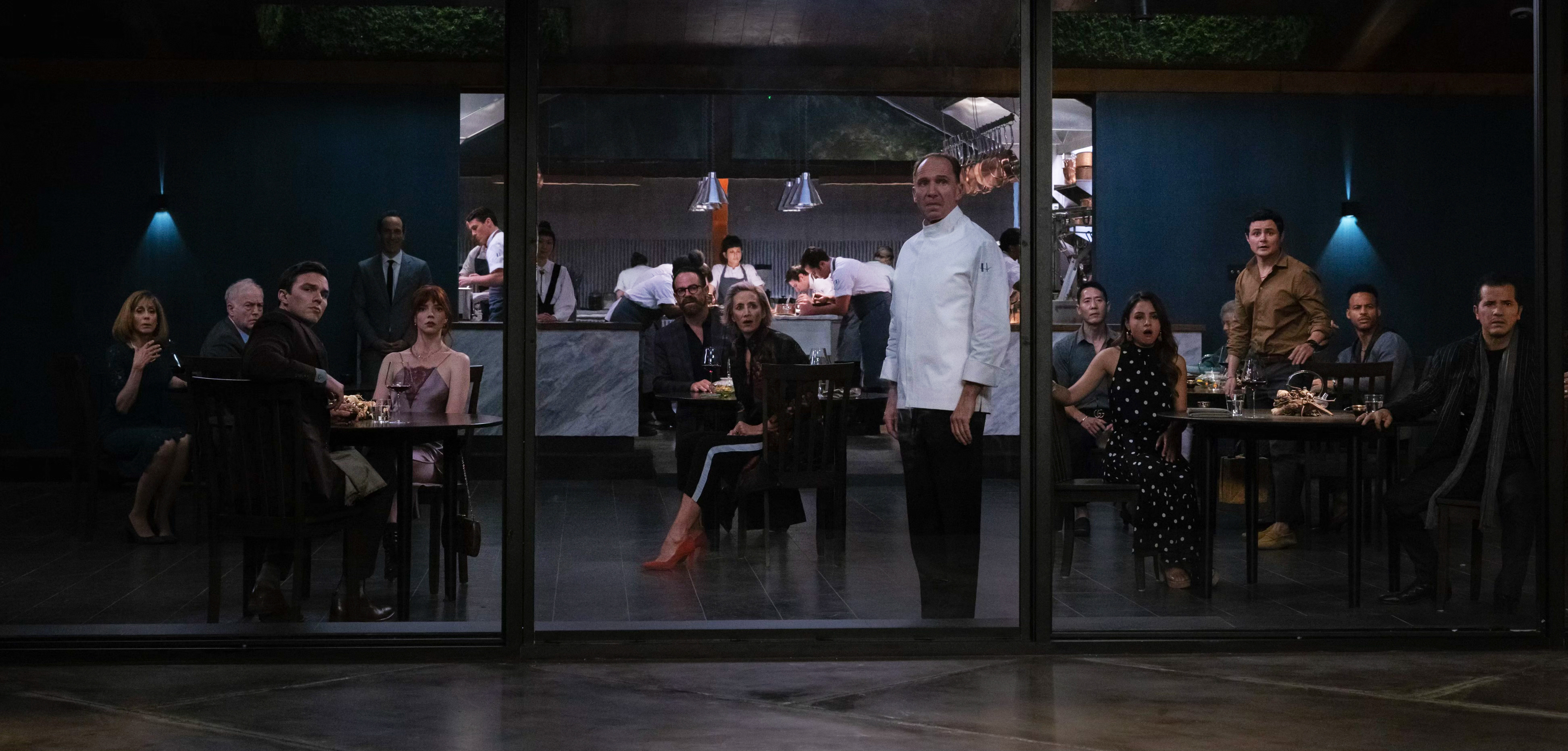 Over the years, Slowik has achieved the kind of stardom that even a garden-variety celebrity chef could only dream of. His dinners – offered only to a select few at an exorbitant per-plate cost – have become legendary. They offer not only food prepared with an obsessive attention to detail but a "story" to go along with it. As the chef mentions in his prelude to the meal, his courses aren't to be eaten; they are to be tasted. This particular meal is special. It represents the culmination of his career and the fulfillment of the ambitions of the small army of cooks who have bought into his cult of personality.
The twelve attendees include two returning frequent diners, Richard (Reed Birney) and Anne (Judith Light); influential food critic Lillian (Janet McTeer) and her obsequious editor, Ted (Paul Edelstein); egocentric techies Soren (Arturo Castro), Bryce (Rob Yang), and Dave (Mar St. Cyr); a famous actor (John Leguizamo) and his assistant, Felicity (Aimee Carrero); foodie Tyler (Nicholas Hoult) and his date for the evening, Margot (Anya Taylor-Joy); and Slowik's mother (Rebecca Koon). Some, like Richard, Anne, and Tyler, crave the experience. Others, like Soren, Bryce, and Dave, are unimpressed by the pretentiousness of the cuisine. Still others, like Lillian and the actor, use this as an opportunity to show off. Only Margot seems out-of-place and, because her name wasn't on the original list (Tyler switched dates at the last minute), she represents a fly in Slowik's ointment. His meticulous plans for the evening didn't include Margot.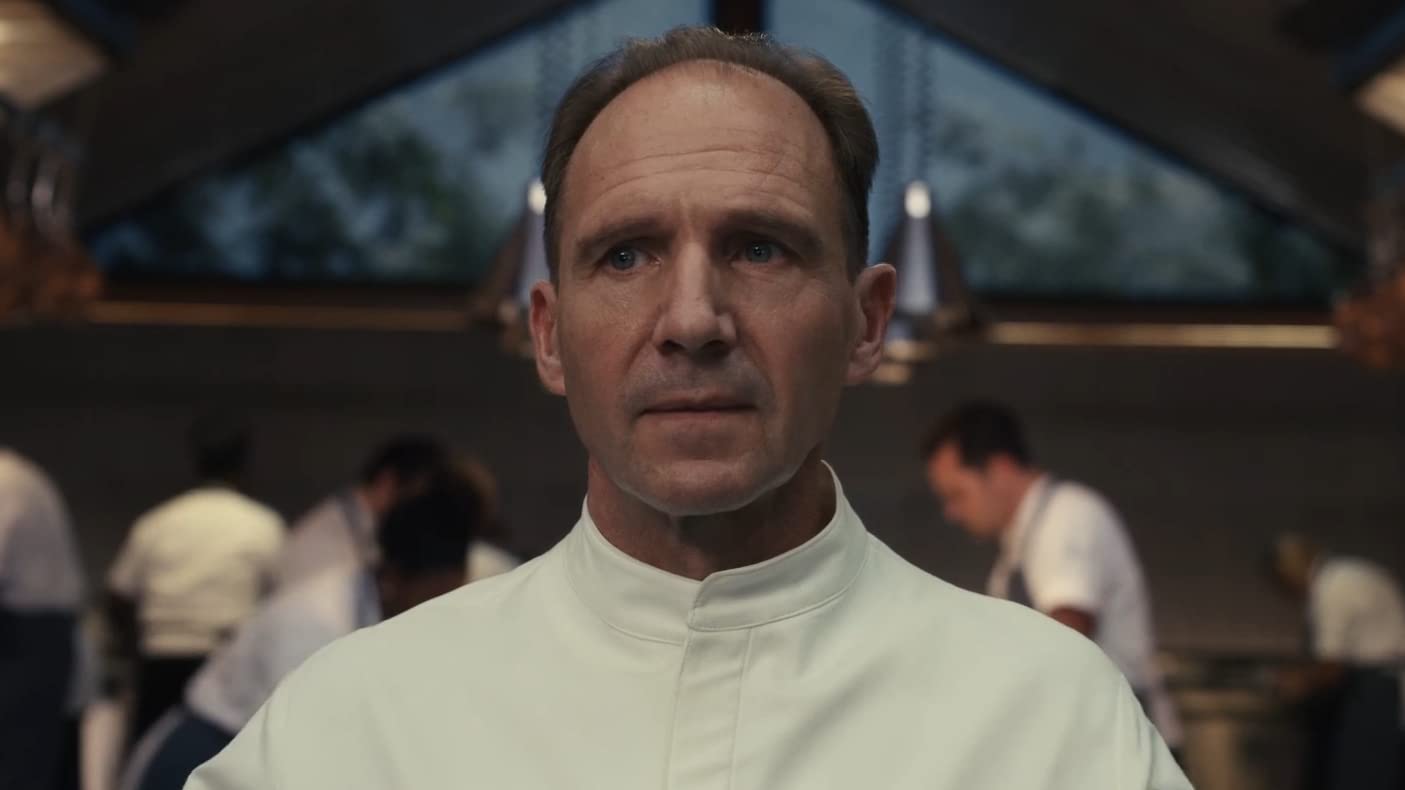 As is typically the case with ensemble productions, some cast members stand out more forcefully than others. The two biggest names – Fiennes and Taylor-Joy – get the most close-ups and give the strongest performances. This isn't unexpected. Nicholas Hoult, who can play either smarmy or appealing, skews closer to the former. Tyler is a fanboy who laps up everything Slowik dishes out, both in terms of food and verbiage. John Leguizamo seems to be channeling his inner Johnny Depp. And Janet McTeer conjures up the nastiest, most out-of-touch influencer since Lindsay Duncan's theater critic in Birdman.
Despite its focus on class issues, there's no penetrating social commentary to be found in The Menu, which takes it for granted that the ultra-rich are ultra-absorbed and, as a result, deserve to be humiliated and brutalized. That's where the fun lies and the filmmakers don't clutter it up with political messaging. Everyone here is a stereotype, even the generally likeable Margot, who represents our portal through the looking glass. There's a kind of wish fulfillment at work here to go along with a lot of tongue-in-cheek nastiness.
---
Menu, The (United States, 2022)
Director:
Mark Mylod
Cast:
Ralph Fiennes
,
Hong Chau
,
Rob Yang
,
Mark St. Cyr
,
Arturo Castro
,
Judith Light
,
Reed Birney
,
Paul Adelstein
,
Janet McTeer
,
Aimee Carrero
,
John Leguizamo
,
Nicholas Hoult
,
Anya Taylor-Joy
,
Rebecca Koon
Home Release Date: 2023-01-17
Screenplay:
Seth Reiss, Will Tracy
Cinematography:
Peter Deming
Music:
Colin Stetson
U.S. Distributor: Searchlight Pictures
---

Three...better movies of this genre
worse movies of this genre
Three...better movies of Ralph Fiennes
worse movies of Ralph Fiennes
Three...better movies of Hong Chau
(There are no more better movies of Hong Chau)
worse movies of Hong Chau
(There are no more worst movies of Hong Chau)
Three...better movies of Rob Yang
(There are no more better movies of Rob Yang)
worse movies of Rob Yang
(There are no more worst movies of Rob Yang)