Movies starring Albert Dupontel Avenue Montaigne
Sometimes movies don't have to be complicated. They don't have to "say" anything or espouse a particular philosophy. There doesn't have to be a deeper meaning beyond exploring slices in the lives of several unpretentious characters. Such is the c... Irreversible
Since one of the duties of a film critic is to provide readers with enough ammunition for them to make an informed decision about whether a movie is likely to match their tastes, I must begin with a stern warning. Irreversible is the kind of film ...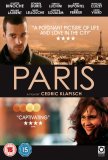 Paris
The characters forming the framework of Paris could live and breathe in any city across the world, but the location in which Cédric Klapisch's tale unwinds is integral to the fabric of the movie. Like Woody Allen and New York, Klapisch allows his... Very Long Engagement, A
A Very Long Engagment is Jean-Pierre Jeunet's follow-up to his international success, Amelie. However, despite the return of elfin star Audrey Tautou, this is nothing like a sequel. Based on the novel by Sébastien Japrisot, A Very Long Engagment...