Movies starring Blanca Portillo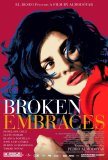 Broken Embraces
Perhaps Almodovar and film noir simply don't mix. This is the second time in three films the acclaimed Spanish director has attempted to apply his unique style to a twisty mystery and, as was the case with Bad Education, it's not a marriage made i... Goya's Ghosts
Though it has been said that "No one expects the Spanish Inquisition," the reality of the matter was that for centuries, life in Spain was lived on the edge of a knife, where one wrong word or action could bring an innocent victim before an ecclesi... Volver
All the world is in love with Almodovar, or at least so he would have us believe. His full name is Pedro Almodovar, but no one bothers with the first name, least of all Pedro. His movies trumpet "A Film by Almodovar" with pride, and his latest, Vol...