Movies starring Brad Renfro Ghost World
Ghost World could easily be considered an "anti-Hollywood coming of age story". Although it follows the contours of the genre, the path is different enough to make the movie seem fresh, non-formulaic, and occasionally surprising. Of course, for s...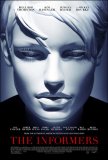 Informers, The
People suck. Life sucks. And when you get to the top, you realize that everything is hollow and pointless. That sums up Bret Easton Ellis' philosophy as well as the central themes of the latest downer of a movie based on one of his novels. The ... Sleepers
Robert DeNiro. Dustin Hoffman. Brad Pitt. Jason Patric. Kevin Bacon. Minnie Driver. With a talented cast like this, it's virtually impossible to envision a bad movie, and, in that regard, Sleepers doesn't surprise or disappoint. This is easi...