Movies directed by Barry Levinson Disclosure
Recently, Barry Levinson's career has been on the skids. After two critical and popular disasters (the overblown, overbudgeted Toys and the lackluster Jimmy Hollywood), the director is in need of a success. With this adaptation of Michael Crichton... Envy
In Envy, the "Va-poo-rizer" is a liquid that, when sprayed on animal fecal matter, causes the offending substance to disappear. Would that such an invention existed to use on this motion picture… It's remarkably appropriate that Envy is about t... Jimmy Hollywood
Barry Levinson had an idea, and a pretty good one at that: take an actor, have him assume the role of a vigilante, and, as public adulation of his assumed personae escalates, blur the line between being a vigilante and acting the part. Unfortunat... Man of the Year
Talk about a movie with an identity problem! Man of the Year doesn't know what it wants to be and, because of this indecision calls to mind a well-worn phrase: "Jack of all trades, master of none." The film contains elements of a comedy, a thrille... Natural, The
Sometimes, pure technical accuracy isn't enough. Sometimes, artistry has to be taken into account. One such case in point is Barry Levision's The Natural, arguably the best baseball movie ever made. The film works not because it is flawless in i...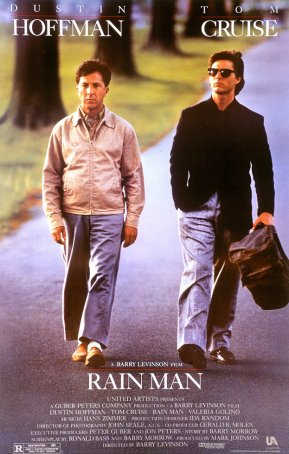 Rain Man
Rain Man is an oddball buddy/road movie that nearly drowns in a tsunami of sentimentality and predictability. An unabashed crowd-pleaser, the 1989 Best Picture Oscar winner has aged poorly, its marginal likability fading like an old Polaroid s... Sleepers
Robert DeNiro. Dustin Hoffman. Brad Pitt. Jason Patric. Kevin Bacon. Minnie Driver. With a talented cast like this, it's virtually impossible to envision a bad movie, and, in that regard, Sleepers doesn't surprise or disappoint. This is easi... Toys
The winner of 1992's "worst film to sport a great trailer" is Toys. The good-natured, humorous spots that advertise this film (featuring Robin Williams in a field delivering quirky, amusing one-liners) bear little resemblance the actual product. ... Wag the Dog
"Why does a dog wag its tail? Because the dog is smarter than the tail. If the tail was smarter, it would wag the dog." Hollywood and Presidential politics - perfect together. Anyone who doubts this simple maxim will face a challenge to their...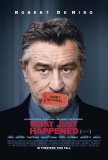 What Just Happened?
Barry Levinson's Wag the Dog was as pointed, funny, and intelligent a political satire as there has been in the last 15 years. Now, with Robert De Niro once again on board, Levinson has turned his camera toward his own backyard. What Just Happene...