Movies starring Bryan Greenberg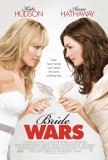 Bride Wars
This movie gave me a headache. Okay, maybe that's an unfair charge to lay at its feet but the fact is that when I walked into the theater, I was fine and when I walked out I had a throbbing pain between my temples. And Bride Wars is the kind of m... Perfect Score, The
For high school kids with college aspirations, the SATs have always been the enemy. Most juniors and seniors try to improve their scores by studying or taking classes focused on SAT preparation. But not the sextet of characters inhabiting Brian R... Prime
Consider a movie that takes place in the Big Apple and features a heterosexual romance with an age gap, a dose of "Jewishness," a psychoanalyst, and an ending that doesn't pander to all the usual clichés. This may sound like Woody Allen - in fact...