Movies directed by Brian Robbins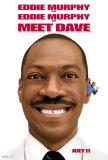 Meet Dave
Back in the 1980s, it wasn't uncommon to hear Eddie Murphy referred to as a "comic genius." 20 years later, the man who once made a concert film called Raw has become a purveyor of PG-rated pabulum. At one point, Murphy could deliver while collec... Norbit
Now begins a period of prayer for Eddie Murphy - he must pray that no one who can cast a Best Supporting Actor vote in the 2007 Oscar race will see Norbit, because no one in their right mind could think of providing an honor to anyone involved in t... Perfect Score, The
For high school kids with college aspirations, the SATs have always been the enemy. Most juniors and seniors try to improve their scores by studying or taking classes focused on SAT preparation. But not the sextet of characters inhabiting Brian R... Varsity Blues
Move aside, Dennis Hopper. Step down, Alan Rickman. I am now convinced that no one can match Jon Voight when it comes to playing a thoroughly detestable bad guy. With his calm, sinister demeanor and menacing facial expression, Voight has the abi...