Movies starring Debra Monk Center Stage
Center Stage proves that all the sports movie cliches can be as successfully applied to ballet as to baseball, basketball, football, boxing, ice skating, skateboarding, karate, etc. With a plot that is constructed entirely out of formula situation... Palindromes
Palindromes, the fourth feature from Todd Solondz, makes me wonder whether this director only had two good films in him. A shallow, transparent satire/social commentary, Palindromes lives and dies on a gimmick. In an attempt to do something "artist...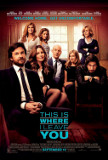 This Is Where I Leave You
This Is Where I Leave You is a card-carrying member of the "family reunion" category of motion pictures wherein circumstances bring together characters whose once-close relationships have grown distant over the years. The mechanism by which this ha...