Movies starring Denise Richards Starship Troopers
Whenever a motion picture tackles a literary classic of any genre, fans of the written work hold their collective breaths, hoping for the best, but dreading the worst. On rare occasions, something like The Godfather emerges -- a movie that not onl...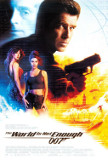 World Is Not Enough, The
Ten years ago, when the second and final Timothy Dalton Bond movie, Licence to Kill, tanked at the box office, it looked like the venerable secret agent had finally run out of gas, driven into the ground by the likes of The Terminator and Rambo. A...