Movies starring Sophie Marceau Braveheart
The crown jewel of 1995's summer blockbusters appears to have arrived early. It's hard to imagine any motion picture released between now and August matching Mel Gibson's Braveheart for spectacle. With its clashing armies, heartstopping action, a...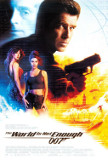 World Is Not Enough, The
Ten years ago, when the second and final Timothy Dalton Bond movie, Licence to Kill, tanked at the box office, it looked like the venerable secret agent had finally run out of gas, driven into the ground by the likes of The Terminator and Rambo. A...