Movies starring Eduardo Noriega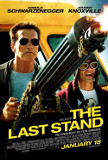 Last Stand, The
Old action heroes don't die or fade away; they just keep going. Once upon a time, being an action star had an expiration date. Now, as long as there's some acknowledgment of the aging process - a line here, a joke there - it's viewed as more of ... Open Your Eyes
Of all the films that emerged from the 1998 Sundance Film Festival, none caused me to ponder, wonder, and puzzle more than Alejandro Amenabar's sophomore feature, Open Your Eyes. Film of this intelligence, audacity, and complexity come along s... Vantage Point
At first glance, Vantage Point looks like it might be inspired by Rashomon - different points-of-view of an incident leading to some greater revelation about the nature of truth. However, while the decision to reveal the story like a puzzle throug...