Movies starring Martin Donovan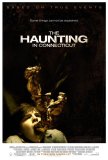 Haunting in Connecticut, The
Sometimes I wonder why I bother with PG-13 horror films. They're a dime a dozen and most of them aren't worth the celluloid the projector's light passes through. For every pleasant surprise like The Uninvited, there are about ten lifeless regurgi... Opposite of Sex, The
The turning point in Christina Ricci's career came when she chose to appear in Ang Lee's The Ice Storm. Since then, nothing has been the same for the up-and-coming performer. Before the 1997 feature, Ricci had turned up in host of bland, family-o... Quiet, The
The Quiet is a psychological thriller from director Jamie Babbit (But I'm a Cheerleader) that takes viewers to darker places than those to which one is typically transported in movies of this sort. The subject matter includes four kinds of abuse: ... Sentinel, The
The Sentinel is a movie in which one's perception of the proceedings will be impacted by a familiarity (or lack thereof) with the TV series 24. For those for whom that number means little more than "two dozen," The Sentinel is a Michael Douglas mo...