Movies starring Quentin Tarantino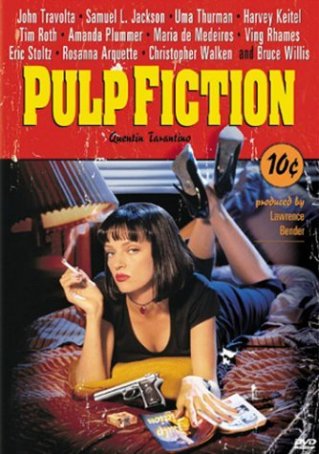 Pulp Fiction
Pulp (pulp) n. 1. A soft, moist, shapeless mass of matter. 2. A book containing lurid subject matter, and being characteristically printed on rough, unfinished paper. "The path of the righteous man is beset on all sides by the inequities of... Reservoir Dogs
Reservoir Dogs grabs you by the throat and digs its claws in deep. From the moment that the unwitting viewer tumbles into the realm of Lawrence Tierney's gang of eight, they are hopelessly trapped there until the final credits roll. As the first ... Four Rooms
Four Rooms, a four-segment anthology directed by independent film darlings Allison Anders, Alexandre Rockwell, Robert Rodriguez, and Quentin Tarantino, has to be one of 1995's major disappointments. Perhaps it's the format itself -- twenty minutes... From Dusk Till Dawn
It's great fun, but certainly not great art. From Dusk Till Dawn, a special effects blood-and-gore extravaganza from director Robert Rodriguez, follows in the footsteps of such cult classics as Sam Raimi's Evil Dead series, thumbing its nose at con...