Movies starring Rhona Mitra Doomsday
Take Mad Max, add elements of Escape from New York and I am Legend, insert a kick-ass heroine to rival Sigourney Weaver or Linda Hamilton, and employ strobe-like editing for the action sequences, and you have a fair approximation of Doomsday. Deri... Number 23, The
Since this is a thriller, there must be a twist. One goes into a movie like The Number 23 with this expectation. However, not only is the twist telegraphed early but it is presented in a clumsy and unconvincing manner. Other films have employed ... Shooter
We live in a world in which conspiracy theories abound, so it comes as no surprise that many thrillers incorporate governmental backstabbing, double-dealing, and cover-ups into the fabric of their story. In a time when paranoia and distrust of the... Skinwalkers
No subset of the horror genre has created a higher percentage of dogs than the werewolf movie. Since The Wolf Man reached screens in 1941, it has become possible to count the number of good films about lycanthropy on the fingers of one hand. The ...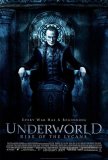 Underworld: Rise of the Lycans
I'll admit to being surprised that the Underworld series has reached a third installment. Apparently, these films aren't that expensive to make because they have never been big box office performers. With the second movie, Underworld: Evolution, ...