Movies starring Romany Malco 40-Year-Old Virgin, The
The 40 Year Old Virgin is proof that motion picture comedies can still be funny. Sadly, the kind of consistent humor delivered by this film happens too rarely. This is the movie Wedding Crashers should have been: rude, raunchy, uproarious, yet wi... Baby Mama
It has become a time-honored tradition that stars of Saturday Night Live, upon graduating from the no-longer-funny late night show, elect to spread their wings and strive for cinematic greatness. With a few notable exceptions, most have crashed an...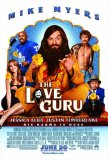 Love Guru, The
To some, Mike Myers is Wayne. To others, he is Austin Powers or the voice of Shrek. It's doubtful that he will be Guru Pitka to many. The Love Guru, Myers' latest film and his most recent live-action endeavor since The Cat in the Hat, is as unmem...