Movies starring Schuyler Fisk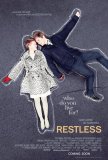 Restless
The most surprising thing about Restless, the latest film from indie director Gus Van Sant, is how conventional it is. Of course, this is not the first time Van Sant, whose penchant is for offbeat productions with little widespread appeal, has ente... Snow Day
No matter how old you grow, you never forget the rare and special magic associated with a snow day. There's nothing quite like the experience of waking up to a virgin blanket of white, and realizing that, at least for one day, the normal drudgery ... Orange County
Most parents, on at least a subconscious level, would be happy if their children, when grown, followed in their footsteps. Such a career choice by one's offspring, is, after all, a kind of validation of one's own decisions. So it must be with som...