Movies starring Scott Porter Prom Night
Spoilers, I suppose… Sony is releasing Prom Night under their "Screen Gems" imprint. Gems? More like turds. By its nature, the slasher film is not a terribly deep or complicated effort. To be successful, all such a movie needs is a sympath... Speed Racer
There's no doubt that the Wachowskis' vision of Speed Racer is big, wild, and overripe with garish colors. It's what I'd imagine it might be like trapped inside a video game or a pinball machine. It's a kaleidoscope gone mad. Yet this kind of vis...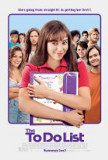 To Do List, The
The To Do List grafts the raunchiness of today's R-rated comedic fare onto the structure of an '80s sex romp. The film feels a little like what might happen if the producers of films like Bridesmaids found a lost John Hughes script and adapted it f...