Movies with cinematographer John Toon Glory Road
Sports movies, with all the requisite clichés attached, are a dime a dozen, and no one has done them better in recent years than Disney. With every year, the roster lengthens, and now includes all of the four major sports, plus golf. The thing t... Jane Austen Book Club, The
The Jane Austen Book Club is an example of how a movie can follow the general plot of a book yet fail to capture the spirit. The problem is a simple one to identify: much of the enjoyment derived from Karen Joy Fowler's novel comes from the way in...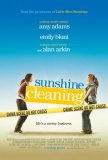 Sunshine Cleaning
There has been much discussion and debate recently about the simplistic and juvenile handling of characters in female-oriented motion pictures, with perhaps Confessions of a Shopaholic being the poster child for what's wrong with many of these movi...