Movies with cinematographer Robert Presley Beowulf
The legend of Beowulf, a mythical hero whose exploits were recounted in an 8th century epic poem, has gained unprecedented popularity some 1250 years after it was first told. With the success of The Lord of the Rings, which (along with the Harry P...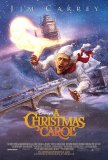 Christmas Carol, A
Review based on a 2-D (standard) screening. If I ever wanted to know what A Christmas Carol might look like as a high-end video game, I need search no farther than this motion picture, which takes the Dickens classic and converts it into somethi... Polar Express, The
The Polar Express is cinematic magic - a delightful tale guaranteed to enthrall viewers of all ages. Does that sound like advertising hype, or the words of a publicist? Perhaps, but it's a reflection of how strongly this film pulled me under its ...